Apple Buys Siri, the Virtual Personal Assistant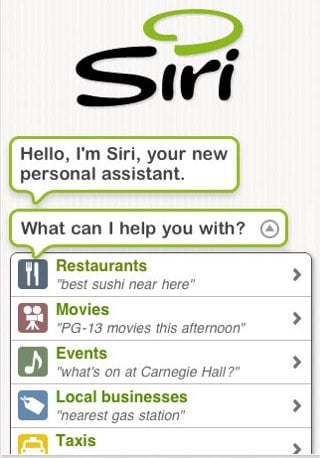 I call this one a big win for Apple. Reports are breaking that Apple has bought startup Siri, which bills itself as your Virtual Personal Assistant. Robert Scoble was apparently first with the news, although there hasn't been any official announcement from Apple or Siri as of yet.
I've been using Siri quite a bit lately as I've been on the road more than normal dealing with my mother's illness. Siri allows you to speak into your iPhone and in most cases it will perform the task you want it to. Ask where the nearest ice cream store is, (my Mom likes ice cream) and it will tell you. I haven't tried this out extensively, except to locate a few stores and doctor's offices, but I like the results I get better than I do with Google's mobile voice search. When you are in a car this beats typing out a search.
Siri has woven together a number of APIs from a number of web services so that it can do things like find the nearest movie theatre and also purchase the tickets, or find a nearby restaurant and make a reservation.
Why do I think this is a win for Apple? While a recurrent theme in mobile tech land these days is that voice might not be as important as data, I think voice access to data and services is going to be, in fact needs to be the next big thing in advancing mobile along to a next level. Face it, being able to utter a few commands to your phone and having it do what you want is a heck of a lot easier than going through the motions yourself. In my limited use of Siri, I've been quite pleased with what I've seen so far and love the app. Whether or not Apple makes the app a standard on the iPhone platform, or chooses just to let Siri's functionality be incorporated into other apps doesn't really matter. I think this sort of user interaction is the future. Now, here's hoping that Apple will invest what it takes to really nail down the voice capabilities to bring that future to us sooner.
And of course if you're keeping score in the mobile wars, this looks like a big strategic play for Apple, although you could argue it is a catch up move.

As an Amazon Associate I earn from qualifying purchases.