Apple by the Numbers at iPhone Announcement
Apple CEO Tim Cook took to the stage at the company's Cupertino auditorium with hundreds of press on hand to regale them with the expected facts and sales figures. Starting with their new stores, Cook told us that they saw over 100,000 visitors at their new Hong Kong store during its opening weekend. This store put the total number of Apple Stores at 357, giving Apple a big advantage over other technology companies.
Case in point was my summer trip to the Greensboro, NC store where they replaced my broken iPad 2, despite determining that the damaged dock connector was my fault. I disagreed but fortunately I didn't have to argue my case. The face to face approach makes their satisfaction rates jump through the roof.
Lion Roars on the Mac
Moving on to the other numbers: Cook shared that Apple's new OS X 10.7 Lion saw phenomenal adoption rates with 6 million downloads of Lion to this point. What took Windows 7 twenty weeks to accomplish, Apple was able to do in 2 weeks. Lion saw 80% more downloads than Snow Leopard, the previous version of OS X.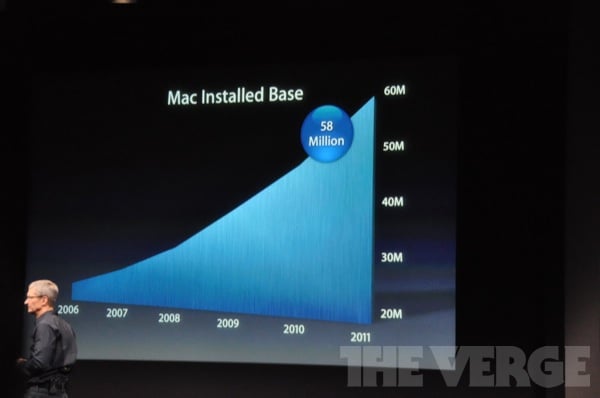 Cook says that Macs are the number one selling notebook and desktop, outpacing the PC industry the past five years. Apple's market share hit 23%. The Mac install base amounts to 58 Million users. With all that success, Cook said:
Now despite all this, there are still 70% of people buying something else. We still have a lot to do.
iPod Dominates with iTunes Music
The Apple iPod, the number one music player ten years after it launched in 2001, has had a 70% market share the whole time.
Taking a jab at the Sony Walkman, Cook said they took 30 years to hit 230 thousand units. In ten years Apple has sold 45 Million (since last June). Not sure if he means last as in June 2011 or 2010, but I'm assuming he means last year. They have now sold over 300 Million.
Apple's music business booms with 20 million songs in iTunes at present. Buyers have downloaded 16 Billion songs already.
iPhone 4 a Crowd Pleaser
Jumping to iPhone numbers, Cook said that of all iPhones ever sold, the iPhone 4 counts for half. Their year over year growth hit 125% compared to only 74% for other smartphones. He also bragged that 94% of all Fortune 500 companies are currently testing whether or not to deploy the iPhone in their enterprises. This doesn't mean it will be adopted by them, we should note, and the same companies may also be testing other smart phones.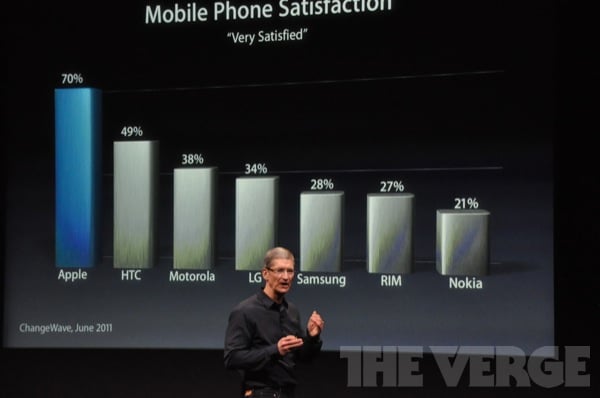 With regards to customer satisfaction, Cook said, "Customers love the iPhone. It's not number 1 by a small amount. In fact, it's pummeling the competition." To support the statement he cited JD Power & Associates. He claims that Apple topped their ratings for the past six years. According to ChangeWave, seventy percent of users call themselves "very satisfied" compared to only 49% of HTC users, the second highest.
Despite all of the success, Apple iPhone only accounts for five percent of the world phone market.
iPad Bests Android Tablets with Apps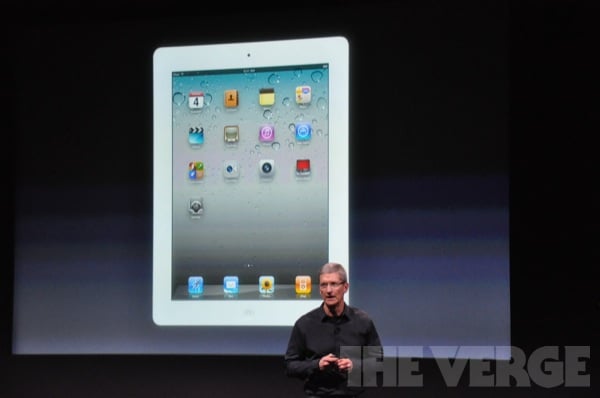 Like the iPhone, users love the iPad, according to Cook. He said that 95% of users are satisfied.
Both the education and airline industries are adopting the iPad. 80% of hospitals are testing the use of iPad for their people. The same said about the testing of the iPhone in commerce can be said about the iPad in these hospitals. They might be testing other tablets too.
Of all tablets sold, 75% are iPads, which I think seems low. Apple has sold enough to hit #1 according to Cook.
All total, 250 Million iOS devices – iPods, iPhones and iPads – have been sold thus far.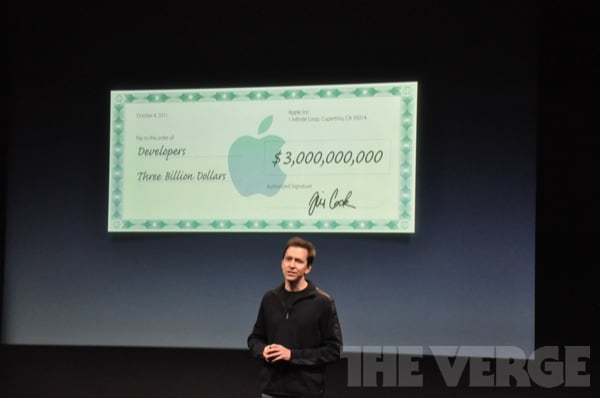 To support all of those devices, the Apple App Store has served up over 1 Billion apps downloaded. They have paid out $3 Billion to developers who posted over 500,000 apps with over 140 thousand specifically for the iPad. This last figure gives Apple a huge advantage over other tablets running Android or other operating systems.

As an Amazon Associate I earn from qualifying purchases.