Apple Changes Christmas to January 26 with Possible Tablet Event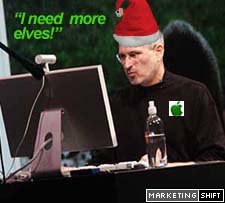 Apple just bumped Christmas into January. Word is they've reserved a venue for an event on January 26, and of course the speculation is that this will be the announcement of the mythical Apple Tablet, which is growing more mythical by the moment. The New York Times Bits Blog has now proclaimed 2010 to be the year of the Tablet. We've seen a leak say that Steve Jobs is "extremely happy with the new Tablet" and another one that says "you will be very surprised how you interact with the new tablet."  Maybe they are referring to this. Apple execs are laughing their collective butts off with how they've played this.
Let's recap. Speculation was rampant earlier in the year that Apple would announce its Tablet sometime early in 2010. But then a leak appeared that said it would happen later in 2010 due to manufacturing concerns. That leak was timed brilliantly to hit right about the time that Christmas shopping heated up. Apple Tablet fan boys and girls looked at the calendar and figured they could go ahead and purchase other toys this year. Then, Boom. Apple schedules the event at the point that all those other Apple toys have been purchased. They know how to do this better than anyone.
Now the question is, can they deliver with expectations so high.
Oh, and by the way, all those other OEMs who are rushing pre-production models to be ready for CES 2010? Apple just gave them big headaches even though its mythical Tablet won't be announced until after CES2010 is history.