Apple Changes its Tune By Finally Acquiring Beats
Apple claims that music is in its DNA and after announcing the acquisition of Beats Music and Electronics it might actually get a little new blood pumping through what many believe are tired veins to match that genetic makeup. Apple and Beats Music finally pulled the trigger on a deal today acquiring Dr. Dre's Beats Music and Beats Electronics primarily because of its subscription service. At least that's what Apple CEO Tim Cook would have us believe based on his comments after the acquisition was officially announced.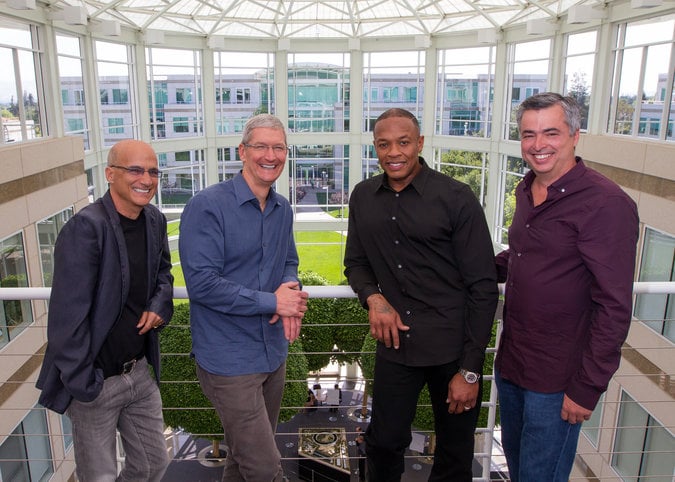 First news of the $3 billion dollar purchase leaked three weeks ago and at the time the rumored price was $3.2 billion. The final numbers on the deal ended up being $2.6 billion in cash and $400 million in stock that will vest over time. It has obviously been quite a path to finally consummate the deal, leaving plenty of room for industry watchers to speculate on Apple's reasoning for acquiring the Beats empire, which many thought was such an unusual move that rumors of the deal might actually be bogus.
But the music loving public has been moving away from Apple's model of purchasing music and moving more towards streaming music subscription services like Spotify, Rdio, and Google Music among others. The sag in downloads was obviously a trend that Apple needed to either reverse or seek a model change of its own. Apple's previous attempts at streaming with iTunes Radio did not strike a responsive chord with customers. iTunes Radio will remain as a free service, while Beats will become a higher end subscription service
Apple CEO Tim Cook in an interview with Re/Code stated up front that the Beats Subscription service was Apple's principle interest.
We get a subscription music service that we believe is the first subscription service that really got it right. They had the insight early on to know how important human curation is. That technology by itself wasn't enough — that it was the marriage of the two that would really be great and produce a feeling in people that we want to produce. They've also built an incredible premium headphone business that's been tuned by experts and critical ears. We're fans of that. It's a reasonable-size business that's fast-growing.
Apple is certainly going to claim that Beats got it right with its subscription service, but with a comparative few paid subscribers, (estimates range from 111,000 to 250,000) it sounds like both companies think the match might lead to greater things all around. Cook went on to say that Beats Music gives Apple a head start, which is interesting phraseology given how many other music subscription services have already gained positive traction. Could Apple have built its own subscription music service? According to Cook, yes. But why build when you can buy a company that brings interesting talent and an existing model into the fold.
The Beats Music App will still be available on Android devices and Windows Phone giving Apple its own music App on those two rival platforms, and making it a developer for Android and Windows Phone Apps. Apple has a history of shutting down Apps and services after purchasing them, especially if they appear on other platforms. The question will become whether the Apps on other platforms retain feature parity in the future once the deal is closed and new features being rolling out.
Apple is also acquiring the two heads of Beats, Dr. Dre and Jimmy Iovine. Both will become employees of Apple. Speculation is that Iovine, who has roots deep within the music business, as well as a long history with Apple, might be able to cut better deals with the music companies and possibly Hollywood as well, giving Apple a new approach to licensing and selling music and other entertainment. Iovine and Dre will both report to Apple's Eddy Cue.
With Iovine and Dre joining Apple it will certainly bring two decidedly non-Apple like personalities into future planning for the Cupertino firm. In fact, after the deal was first leaked Dr. Dre appeared in an instantly infamous and profanity laced Facebook video celebrating that he was the first billionaire Hip Hop artist, and calling out his East Coast rivals for lagging behind his West Coast success. The video was later pulled from Facebook, but is available on YouTube here (NSFW). As time wore on after the leaks, some actually speculated that Apple may have cancelled the deal after Dre's premature boasting. Some still think the video played a part in the price drop.
As part of the deal Apple also acquired Beats Electronics which is famous for its oversized bass thumping headphones that many see as a status symbol given their high price tag. After the announcement today Beats severed ties with is headphone design firm, Ammunition. Beats hardware generates revenue of approximately $1 billion a year and is already featured prominently in Apple's retail stores as well as many other locations. Both Apple and Beats see this as enhancing distribution for the large and distinctive headphones, that might actually be too big to be called Apple's first wearable device.
Apple watchers gearing up for announcements and news at next week's World Wide Developer Conference (WWDC) shouldn't expect any specific news spilling out from the deal beyond some chest thumping. The deal won't close until the end of 2014.
Tim Cook later in the day published a letter to Apple employees about the acquisition, the first multi-billion dollar purchase Apple has made. The text of that letter follows below.
Team,

This afternoon we announced that Apple is acquiring Beats Music and Beats Electronics, two fast-growing businesses which complement our product line and will help extend the Apple ecosystem in the future. Bringing our companies together paves the way for amazing developments which our customers will love.

Music is an important part of our lives and our culture. Music has the power to inspire us, to comfort us, and to send our emotions soaring. It brings people together and transcends the limits of spoken language.

Apple's history in music began with selling Macs to musicians. That remains important to us today, but we also bring music to hundreds of millions of customers with iTunes, which is at the forefront of the digital music revolution. Music holds a special place in our hearts at Apple, and we know that we can make an even bigger contribution to something that is so important to our society. That's why we have kept investing in music and why we're bringing together these extraordinary teams — so we can continue to create the most innovative music products and services in the world.

Beats co-founders and music industry pioneers Jimmy Iovine and Dr. Dre will join Apple, along with their team of employees. Jimmy has been on the cutting edge of innovation in the music industry for decades, including as a key partner for Apple in the launch of the iTunes Music Store more than ten years ago. He has produced or collaborated with some of the most popular artists in history, and been an important contributor to the success of the iTunes Store.

Beats Music was built with deep respect for both artists and fans. We think it's the first subscription service to really get it right. Both Apple and Beats believe that a great music service requires a strong editorial and curation team, and we will continue to expand what we do in those areas. The addition of Beats will make our incredible iTunes lineup even better, extending the emotional connection our customers have with music.

The Beats Music team will report to Eddy. The teams will be getting to know each other better in the weeks ahead, and we are very excited about the possibilities for the future.

Beats Electronics has become the brand of choice for headphones and speakers in both the music and sports world, just five years after its launch. They are among the most popular and highest-rated third-party products sold today in Apple's retail and online stores. We see an incredible opportunity to bring Apple's legendary design and engineering capabilities to these popular products under Phil's leadership.

Please join me in welcoming Beats to Apple. I hope you are as excited as I am about this new chapter in our history.

Tim

As an Amazon Associate I earn from qualifying purchases.