Apple Clogs Up The Pipes with Lion and iOS Updates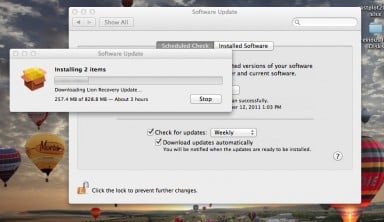 You can just hear the groaning. Or if you're on Twitter you can see it rolling by in real time. Apple is opened up the floodgates for quite a few updates today with the focus of course on iOS5. But it is also updating OSX Lion to 10.7.2 which brings the iCloud features as well as updating a number of other things. And remember if you use more than one Apple product you've got quite a few downloads to go. In my case, I'm looking at an iMac, a MacBook Pro, a Mac Mini, and iPhone, an iPod Touch, and two iPads. Oh, and an Apple TV gets an update as well. Yeeesh!
As an example, there is an update to the Lion Recovery process as well as an iPhoto update to handle iCloud in the App. Supposedly Apple's productivity suite is also getting an update but I don't see that yet.
The bottom line is that Apple and Apple product users are grabbing bandwidth like there is no tomorrow pulling it all down. I'm actually surprised that this wasn't more spread out. Typically in the past iTunes is updated a few days out from an iOS update, but it came down yesterday. That late timing means many are probably downloading that as well today. The Lion update certainly could have happened a few days ago, but I'm guessing Apple wanted to make sure everything was AOK with iCloud before rolling that out. Unfortunately, the crush on servers puts a few doubts in my mind about how well iCloud will perform once it is up and running with all of its features. We'll have to wait and see.
Except for the fact that this is all coming down via bits and bytes over the Interwebs, the sheer amount of stuff that Apple is pumping out today reminds me of the old days of OS updates on Windows. I'm talking the software boxes days here. You remember how that went. You'd install the OS, then the anti-virus, then, well, you get the picture. There was always a lot to install on those days. Just like there is today.
UPDATE: I'm now noticing that the time remaining is jumping wildly on the download that I'm dealing with currently. When I say wildly, I mean between 6 hours and then down to 30 minutes. Craaaazy!