Apple Confirms No Plans for iPhone 5 Dock
In an email reply to a customer inquiry, Apple marketing head Phil Schiller confirms that the company has no intentions of delivering an iPhone 5 dock for its flagship smartphone. In the past, Apple has either created device-specific docks to accommodate the smartphone to allow users to sync and charge their devices at their desks or to charge their phones on a nightstand, or to create dock adapters to use the phones with a Universal iPhone Dock. However, as user behavior changes, Apple won't be creating an official Lightning-compatible iPhone 5 dock.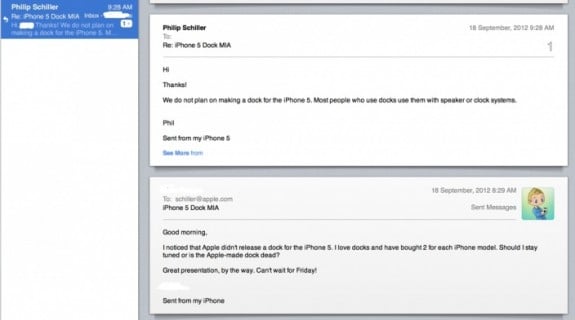 The reasoning, according to Schiller, is that 'most people who use docks use them with speaker or clock systems,' suggesting that Apple is letting third-party accessories-makers take on the role of providing a dock of some sort, either as a standalone or integrated with speakers or an alarm-radio.
Interestingly, it is those very same accessories-makers that Schiller is deferring to for the dock situation who are having mixed reaction to Apple's switch from the standard 30-pin dock connector to the new Lightning standard. After Apple announced the iPhone 5, Jawbone, which makes Bluetooth speakers and earpieces, declared the dock is dead.
https://www.youtube.com/watch?v=hj1iO78d6AM&feature=share&list=UUBJ1FUqJJD5JAXa1Qlnt5dw
Various other third-party accessories-makers who are trying to secure funding on Kickstarter for a number of third-party dock accessories are having to either re-tool their products to support the new iPhone or release a dated accessory that will work with previous-generation Apple smartphones.
Phil ends his email with a signature that says 'Sent from my iPhone 5,' according to a report on 9to5 Mac.