Apple Considered iPhone 5 Dock, As Revealed in Manual
In Apple's official user guide for the iPhone 5, it appears that the iPhone-maker did consider a new iPhone 5 dock that would be compatible with its new Lightning cable. Previous iPhone models relied ion the older 30-pin dock connector and the new iPhone 5 made the jump to a much smaller Lightning port. To date, however, Apple has not released, nor announced, any official Apple-made iPhone 5 dock for users to either use at their desk or at their nightstand despite two separate references made in the reference manual.
As highlighted on Apple Insider, Apple made two separate references to an 'iPhone Dock' as an optional accessory that would be 'available separately' when talking about charging the iPhone.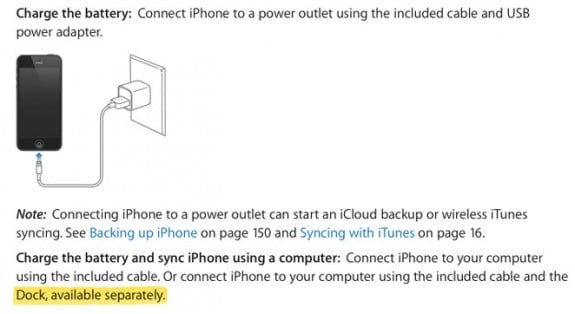 After the device was released, however, when a user wrote in to Apple's head of marketing, Phil Schiller revealed that the company has no plans to offer such an accessory. This leads to speculations that Apple had subsequently canceled plans for a dock. According to Schiller, users who do dock their iPhones do so with other peripherals, such as a speaker dock or a clock dock with alarm/radio functionality. As such, an iPhone dock would not be made.
In the past, Apple had offered two separate types of docks for previous iPhone models. There was a device-specific iPhone dock that matches the curves and design of the iPhone, and there was a Universal Dock that was made to accommodate all different iPhone and iPod models via different dock adapters to securely fit these devices. The Universal Dock was sold with an Apple Remote and users can control music playback through the bundled remote control.
It's still unclear if Apple in the future will release an iPhone dock. It's also unclear if speaker companies will make speaker docks in the future, or if the future of music listening will be via Bluetooth or the auxiliary jack to accommodate both iPhone models and Android models easily.

As an Amazon Associate I earn from qualifying purchases.