Apple Continues Prep for iPhone 7 Release
Apple is changing up the iPhone trade-in program as part of the summer preparations for the iPhone 7 release date this fall. The change comes on top of carrier changes to the price you'll pay for a new iPhone if you have bad credit.
We saw Apple and carriers make shifts in summer 2015 ahead of the new iPhone release date and the company is at it again.
While the changes to the iPhone trade-in program don't mention a new iPhone, by making these changes in June there is time to work out the kinks and test the changes ahead of a busy fall during the iPhone 7 release date.
When you buy the iPhone 7 this fall, or when you go in to buy a new iPhone right now, you will now be able to use a simplified iPhone trade-in program that will allow you to pay less for your new iPhone up front or even cut the price you pay monthly.
Under the new iPhone Trade Up plan, which is what Apple's calls the trade-in offer, you can get up to $250 towards your new iPhone at an Apple Store. This is down from the $300 offered last week. You can trade in at an Apple Store or mail in to Apple.
The price drop is due to a new iPhone release date approaching. Apple does not accept the iPhone 6s or iPhone 6s Plus for trade as part of this program yet and the iPhone 6 value is dropping every day.
Previously Apple allowed users to trade in an old iPhone and choose iPhone financing through a bank, but now the plan includes carrier financing, which is what Apple offers when you buy a new iPhone on AT&T, T-Mobile, Sprint or Verizon. he Apple iPhone Upgrade Program and Apple iPhone Installments still list a bank, but it's not the only way to buy.
Carrier financing normally comes with 0% interest and spreads the payments out over 24 to 30 months. This is not a lease, so you own the phone at the end and can pay it off early without penalty if you want to upgrade.
Monthly payments vary depending on the phone, storage size and carrier; but most often the payments are $22 to $27 with Apple's offer running up to $32 if you go with the annual upgrade program that includes AppleCare+ as well.
If you trade in your iPhone 6 Plus for $250, you can cut the monthly payments by $10 to $11 depending on how taxes and fees work out. That makes the monthly cost of paying for your new iPhone more affordable.
By rolling this out now, months ahead of a rumored iPhone 7 release date Apple can work out any kinks with setting up the carrier financing part and it allows consumers to research the monthly price options.
Apple will pay you $50 to $250 for your old iPhone in good working condition.
iPhone 4s – $50
iPhone 5/5c – $75
iPhone 5s – $125
iPhone 6 – $225
iPhone 6 Plus – $250
Keep in mind that you can normally sell your iPhone for more than you get at a trade-in. The Apple trade-in program simplifies the upgrade process for consumers who don't want to sell their iPhone on their own.
The iPhone trade-in program does not cover the iPhone 6s or iPhone 6s Plus at this time, but you can expect to see these models added later this year.
This type of upgrade is especially appealing near an iPhone 7 release date as it means a seamless upgrade without paying off your current phone with money out of your pocket.
Rumors suggest the iPhone 7 release date is coming in September, which would be a year after the iPhone 6s and the launch of Apple's iPhone Upgrade Program that allows users to get a new iPhone every year.
We may see a similar design from the current models to the iPhone 7 and iPhone 7 Plus, but a variety of feature upgrades including better cameras, a new home button and Apple may remove the headphone jack.
9 iPhone 7 Features We Want in 2016
Waterproof iPhone 7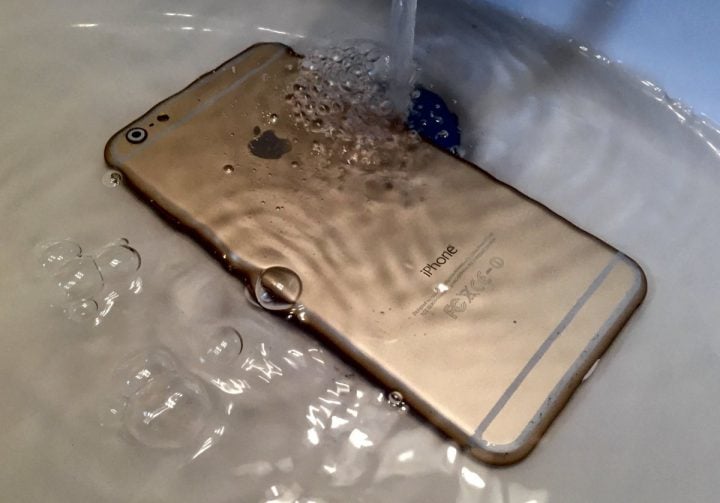 Apple upgraded the iPhone 6s design to make it withstand water better than the iPhone 6, and there are several Apple patents focused on delivering an iPhone that survives in water, which gives us some hope for a waterproof iPhone 7.
With a new design Apple may be able to incorporate a water-resistant iPhone 7 design into a production model allowing users to not worry about using the iPhone near water.
If Apple is able to deliver this, it would likely come with caveats such as only providing protection for 30 minutes of submersion for 3-6 feet or less.
The Samsung Galaxy Note 7 is water resistant, working in water including the ability to use the S Pen underwater as demonstrated in the video above.
A report from FastCompany claims that this is a feature Apple will provide with the iPhone 7 by coating the components of the iPhone 7 with a special chemical. We've heard rumors like this before and Apple pulled the feature, so while it is exciting, make sure you check before dropping your iPhone 7 into the water later this year.
The latest iPhone 7 rumors from earlier this year suggest Apple will not deliver a waterproof iPhone 7 this year. This back and forth mirrors what we see with many rumors and we may not know until the fall.

As an Amazon Associate I earn from qualifying purchases.