Apple Defends App Developers in Patent Fight Against Lodys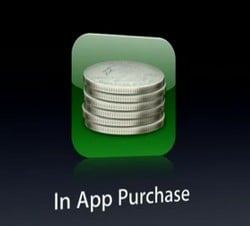 We had previously reported that a patent company called Lodys has been targeting small third-party iOS app developers who use Apple's in-app purchase APIs with a patent infringement lawsuit, and now Apple is speaking out on behalf of its developers and is defending its third-party developers. The Cupertino, California maker of the iPhone and iPad has sent a letter to Lodys, asking the company to withdraw its claims. "Apple is undisputedly licensed to these patents and the App Makers are protected by that license," writes Bruce Sewell, Apple's Sr. VP and General Counsel.
These licensed products and services enable Apple's App Makers to communicate with end users through the use of Apple's own licensed hardware, software, APIs, memory, servers, and interfaces, including Apple's App Store. Because Apple is licensed under Lodsys' patents to offer such technology to its App Makers, the App Makers are entitled to use this technology free from any infringement claims by Lodsys.
Developers who were initially served with papers from Lodys were perplexed as they felt they had done nothing wrong–they had licensed the appropriate the appropriate APIs to enable in-app purchases as part of their developer license with Apple. Apple feels the same way.
For Apple, supporting its developers in this matter may be an important step and may set precedent for future lawsuits surrounding intellectual property. As developers have been one of the driving sources behind the success of its mobile strategy, making developers feel safe from legal threats may help keep them loyal to the platform and ensure that a thriving app economy continues for the iPad, iPhone, and iPod Touch.
While this has been the first time that iOS developers have been the target of intellectual property lawsuits, in the past, Microsoft had worked to ensure that its partners, mainly on the hardware side, were protected through the use of Windows Mobile licenses. This helped to ensure that there were many hardware partners building Windows Mobile PDAs and smartphones. Though Apple has stopped short of creating a document as Microsoft had in the past granting its licensees indemnity against legal claims, Apple may be setting precedents for future claims related to issues with in-app purchases or other intellectual properties with its third-party developers.
Via: Loop Insight

As an Amazon Associate I earn from qualifying purchases.