Apple Discouraging Developers to Use Gold iPhone 5s in Promo Images
The gold iPhone 5s is one of the most sought after iPhones yet. Granted, it's not actually made out of real gold, but the color choice is a first for Apple, and supply has been extremely low. With that said, Apple is trying to get the gold iPhone 5s to lay low until the company can bring back up inventory by asking app developers to refrain from using the gold iPhone 5s is promotional images.
In the company's updated marketing guidelines for developers, the company notes that promo images of iOS apps should "feature only the most current Apple products in the following finishes or colors: iPhone 5s in silver or space gray, iPhone 5c in white or blue, iPad Air in silver or space gray, and iPad mini in silver or space gray."
This means that developers should stay away from gold for the iPhone 5s, as well as any other color except white and black on the iPhone 5c. Since blue and white have been deemed the most popular iPhone 5c colors, it makes since that Apple wants developers to focus on these shades for app promotions.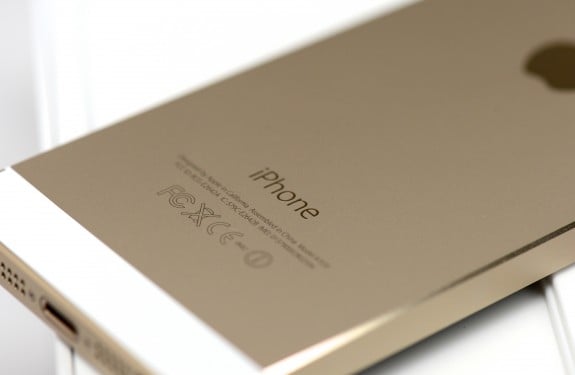 However, while Apple is telling developers to stay away from promoting the gold iPhone 5s, the company has been blasting the gold color option on multiple advertisements, suggesting that the company isn't necessarily trying to take attention off that specific color. The gold iPhone 5s is pretty much sold out everywhere, and we're sure Apple is happy about that.
Another reason why the company might be discouraging developers from using the gold iPhone 5s (as well as only a couple of iPhone 5c colors) is so that promo images are more uniform across apps. Indeed, it can get a little messy when you see promo images for apps that are using all sorts of different devices for displaying apps.
In any case, this means that you won't see any gold iPhone 5s units gracing the front pages of app developer websites. Of course, the apps will still run just fine on gold models, but it seems Apple is calling dibs on exclusive promotion of the gold iPhone 5s for now.

This article may contain affiliate links. Click here for more details.