Apple Expected to Launch 7-Inch iPad Tablet Summer 2012?
Speculations posit that Apple would begin production of a 7.85-inch iPad tablet starting in spring and that the device may ship in summer. As the company is expected to introduce a higher resolution 10-inch iPad 3 in the spring, this suggests that Apple would be staggering the launches of its tablets in 2012. DigiTimes claims that the 7-inch offering is expected to launch before Q4 2012. Summer may be a likely candidate for launch if the company sticks with fall for any iPod and iPhone introductions.
A 7-inch model would help Apple compete not only against Samsung, which had debuted its Galaxy Tab lineup last year with the 7-inch Tab, but also against lower-cost offerings from e-book retailers Amazon and Barnes & Noble. Both the Kindle Fire and Nook Tablet have attracted a lot of buzz and attention, and Amazon's debut 7-inch Kindle Fire tablet with a dual-core CPU has generated a lot of consumer interest, which the company has successfully converted into sales thanks to the device's $199 entry price point, which is less than half of what the entry-level 10-inch iPad 2 costs at $500.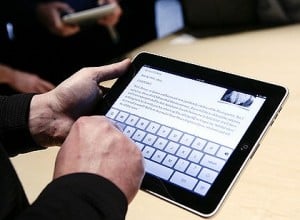 In the past, Apple's late CEO Steve Jobs had criticized the 7-inch form factor, saying that it sacrificed too much to achieve portability. When the original iPad had debuted, Apple had highlighted the on-screen keyboard, noting that users can nearly touch-type on the tablet's multitouch display. With a 7-inch form factor, the screen size is reduced such that the typing experience is less than desirable. However, those who prefer a balance of usability–the 7-inch screen can still display a lot more information than a 4-inch smartphone–and portability will still prefer a 7-inch form factor over a larger tablet as it can fit into a purse, bag, or even pocket more easily.
The problem with Apple's entry into the 7-inch market may have to do with cost. Amazon is said to be selling its tablet at a loss in hopes of capturing sales later through consumer purchases of goods and digital content through its Amazon.com store, which hosts apps, music, movies, TV shows, videos, digital books, and a variety of goods and merchandise. The Kindle Fire does sacrifice storage space–the tablet is only available with just 8 GB of storage and relies on Amazon's cloud storage for more space–as well as RAM. It's unclear if Apple will have to make these sacrifices to come out with a tablet that can compete on cost.
A 7-inch model would serve as a nice middle ground between Apple's 3.5-inch phone and 9.7-inch tablet currently. It would help Apple deflect competition from larger Android phone offerings–like the Galaxy Nexus and Galaxy Note from Samsung–as well as mid-range tablets from rivals.
Additionally, another issue that Apple will have to face with introducing a 7- or 7.85-inch model is fragmentation. With the new model, Apple will not only have support the HVGA display of older iPhones, the Retina Display on the iPhone 4 and 4S models, and the current iPad resolution, but the iOS-maker would also have to support the newer resolutions of the 7-inch model as well as the higher resolution iPad 3. That means that it would have to either work with developers to create native and universal apps that would automatically scale to the varying resolutions, or create functionality in iOS to scale and stretch apps to fit the varying screens. Compatibility issues, updates of apps, and elegance of the end user experience are all things Apple will need to consider.
Via: DigiTimes

As an Amazon Associate I earn from qualifying purchases.