Apple Exploring 3D Photo, Video Recording Hardware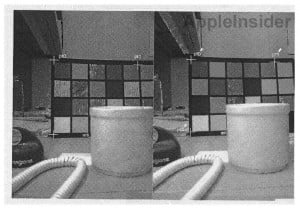 A recent Apple patent filing was unearthed revealing that Apple is exploring different ways to record videos and capture digital still images in 3D. While the potential of Apple's patent can materialize in a future iOS–an iPhone 3D perhaps–device, it's unclear if Apple will commercialize its efforts.
According to the patent filing, Apple says that existing 3D photo and video capturing systems are software-reliant, which leads to sub-par quality of the captured image or video as there can be artifacts in the final composition as the software has to guess how to merge the separate shots captured with the dual rear-cameras on devices like the HTC EVO 3D, coming this summer to Sprint in the U.S.
With Apple's method, hardware, rather than software, will be involved to stitch the images together with a "deterministic calculation for stereo disparity compensation."
According to AppleInsider, "Apple would create hardware with multiple imaging systems, employing separate luma, chroma and depth/distance sensors to capture images that can be turned into a single, three-dimensional picture."
Users will need to perform a one-time setup and calibration of the device.
In addition to 3D capturing, an iPhone 3D, if one will be created in the future, would also need to support a 3D-capable display. 3D devices coming to the market are relying on glasses-free displays. The LG Optimus 3D is relying on 3D display technology from LG while the Nintendo 3DS and the forthcoming HTC EVO 3D for Sprint will be using displays from Sharp. In viewing the Optimus 3D and the EVO 3D screens, the EVO 3D offers a better 3D viewing experience in my experience at CTIA.