Apple Giveth and Apple Taketh Away: Pulse Pulled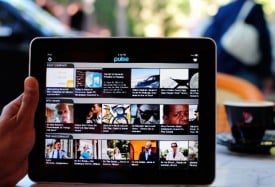 You have to feel for these guys. I've been getting ready to write a small review of an iPad app called Pulse. It's a different way to read RSS feeds on an iPad. You can load up to twenty feeds into the reader (syncing them from Google Reader) and then view them on the iPad in a UI that is quite stunning. Pulse caught the eye of quite a few recently, and I have to say, it is a lovely way to peruse RSS feeds, even if you are limited to twenty feeds at the moment.
Pulse News Reader was created by two Stanford students Akshay Kothari and Ankit Gupta, who quickly had lots of folks talking about them and their app. That included Steve Jobs who mentioned the app during the WWDC keynote yesterday. But that's where the joy ride to the top stopped for the moment. Apparently the New York Times feels Pulse infringes on its rights, send off a legal missive and Pulse was pulled from the App Store.
Intriguingly the NY Times gave Pulse a glowing review last week. Word is that the developers are working to exclude the NY Times from being selected as a feed to read in hopes of getting the app back in the App Store.
Via BoomTown

As an Amazon Associate I earn from qualifying purchases.