Apple Goes Big and Free With Largest iWork Overhaul in History
Apple has announced its biggest update to its iWork productivity suite to date yet for both the iOS and OS X platforms, and the best part of all is that the update will come free.
The iWork suite comprises of three applications: Pages, Keynote, and Numbers. These titles are for word processing, presentation, and spreadsheets and will go head to head with Microsoft Office's Docs Powerpoint, and Excel. All the apps will come free with new hardware purchased today, including the new MacBook Pro, the new Mac Pro, and new iPad and iPhone. Additionally, existing owners of the software could download the new versions for free from the App Store.
As part of the overhaul, Apple is allowing users to focus on the content that they are creating. A simpler, cleaner interface highlights the content creation process with a simple, minimalist sidebar that gives users access to settings and other tools. The redesign is not dissimilar to what we've been seeing in Apple's software design language that debuted with iOS 7 earlier this summer when that software was previewed to developers at WWDC. Apple is eschewing a lot of the clunky skeuomorphic design elements and go for a cleaner, lighter palette.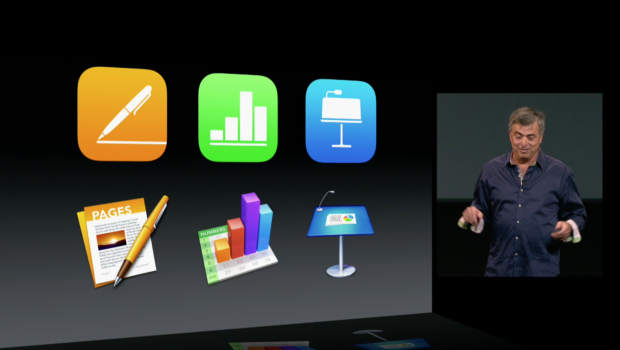 New effects, elements, and transitions will be part of the update, but the biggest change will be the ability to collaborate with others through iCloud. Not only will users with OS X and iOS devices be able to benefit from the collaboration, but a compatible browser can connect even PC users with iCloud to collaborate and share documents with iWork users.
In its keynote presentation, Apple demonstrated that two users can be looking at and editing the same document simultaneously in real time, showing that Apple is not just targeting Microsoft Office users, but the collaborative features of Google Docs in the cloud.
Apple says that the apps will be available starting today and the elegance and simplicity of these apps should be more than enough for many consumers.