Apple Has No Plans To Buy Waze
Despite rumors this week, Apple does not plan to buy social mapping company Waze, accoridng to reports on CNet and TechCrunch.
Yesterday rumors began to circulate that Apple wanted to buy Waze to help improve the Apple Maps app. Waze is a social mapping service that uses data collected from its estimated 30 million users to improve its free driving directions. The service can also report traffic patterns based on users driving with the Waze app open.
Waze also lets drivers alert other drivers of things they see on the road such as accidents and police cars.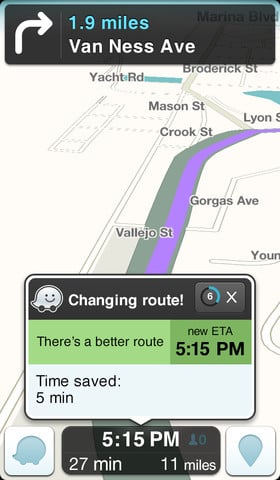 The startup reportedly wanted $750 million from Apple for an acquisition, according to TechCrunch. Apple, however, allegedly only offered $400 million to buy the company with another $100 million in earn-outs pending the company's performance.
According to CNet, there are no talks between the two companies, and any rumors of an acquisition were "completely fabricated."
If Apple did acquire Waze it would help the company give better driving directions to its Maps users and add other useful information. There are enough Apple's Maps issues that Apple fired the head of Apple Maps and Australian police advised against using the app last year after it was partially responsible for motorists stranded in a desert.
Waze is currently available for both iOS and Android, and that lack of an acquisition is good news for Android users as Apple would likely pull the app from the Play Store if it bought the company.
Previous Apple acquisitions like Chomp resulted in the company pulling the apps from both the App Store and Play Store. In the case of Chomp Apple integrated the company's system into the new App Store in iOS 6 which received mixed responses from users. As an independent company Waze can continue to offer its service and full selection of features to all of its users, and users don't have to fear that their maps app of choice will disappear.

As an Amazon Associate I earn from qualifying purchases.