Apple iBeacon Coming to 20 MLB Ballparks in Time for Opening Day
Major League Baseball will begin its deployment of Apple's iBeacon technology starting next week at 20 MLB ballparks across the US, according to MacRumors. Each stadium will get around 100 iBeacons placed throughout the ballpark to help spectators with a number of different things, like finding their seats and showing them the closest food vendors.
The iBeacon technology will be integrated with MLB's At the Ballpark app on iOS, which is an app that essentially acts as a guide to get your way around the stadium, complete with maps and a directory to find your way around. iBeacon should make that task even easier.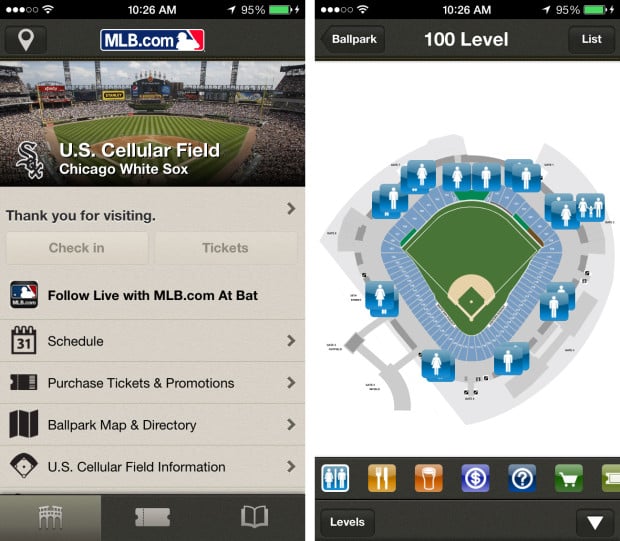 Functionality of the iBeacon tech will vary from ballpark-to-ballpark, since the individual teams will have the most significant input and control over what iBeacon can do at its respective stadium. Plus, there are a ton of implications for the technology at sporting events, like "point of interest information, concessions, loyalty and rewards programs, shopping, and more."
The MLB has been one organization that has backed Apple's technology early on, with Passbook being one of them. The MLB was one of the first major organizations to begin supporting Passbook for game-day tickets, and now its one of the early adopters for the company's iBeacon technology, which has already rolled out in Apple Store locations, as well as a few other retailers.
If you're not familiar with Apple's iBeacon, it uses low-energy Bluetooth to connect to your device when it's in range, rather than relying on a WiFi network. Then, retailers and stadiums can send you helpful information or users can request information right on their phone based on their location or status. However, the MLB is planning to bring more-reliable WiFi to all ballparks, as well as work with all the major cellular carriers in order to provide better coverage at stadiums.

As an Amazon Associate I earn from qualifying purchases.