Apple iBooks Operations Will Be Overseen by Third-Party
Huge changes could be coming to the pricing of books in Apple's iBooks store as part of a judgment announced in the United States Department of Justice's case against the company for price-fixing.
As ruled on by United States District Court Judge Denise Cote, Apple is required to nullify all of the agreements it made with publishers in the run up to the launch of the iBook Store. In addition to canceling those agreements, the judge is also taking steps to insure that Apple doesn't  manipulate the eBook market again.
Apple won't be allowed to enter into what the judge is calling "similar" agreements for up to four years. That injunction includes the book publishers that the company was accused of conspiring with including, Hachette Book Group, HarperCollins, Holtzbrinck Publishers, Macmillan, Penguin Group and Simon & Shuster. Going forward, Apple's activities in the space will be monitored by a third-party.
Back in July, Judge Cote found Apple guilty of Antitrust violations after the Justice Department investigated and found that many in Apple's chain of command had engaged in practices designed to fix eBook prices and shut out other competitors in the space like Barnes and Noble and Amazon Kindle.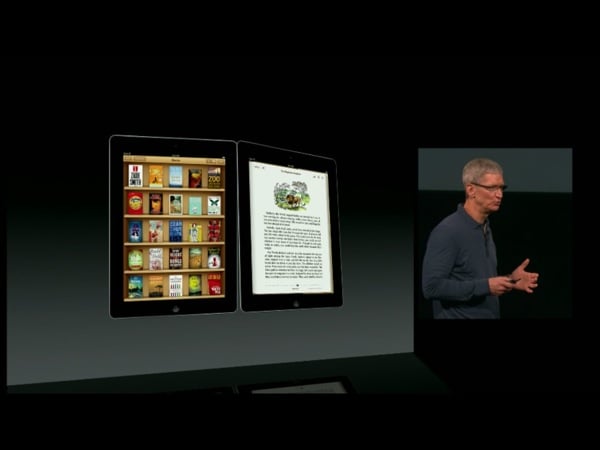 Read: Kindle iPad App Could Soon Let Users Buy Books Again
As part of the agreement Apple is restricted from making deals with publisher MacMillian for four years, Penguin for 42 months, Simon & Shuster for three years, HarperCollins for 30 months and Hachette for two years.
Earlier this summer, a settlement proposed by the Department of Justice would have required Apple to cancel its agreements, not make new agreements for an extended period and forced Apple to let other eBook competitors who have applications in its iTunes App Store, offer purchases inside their apps. While users were able to buy books through Amazon's Kindle application early on, new rules introduced by Apple around the time it entered the eBook market required any app developer selling content through their applications to give Apple with a cut of their revenue.
Read: eBook Wars Heat Up on iOS – Update Kindle App Removes Kindle Store Button
Unfortunately for users, the final judgement does not include any language that would require Apple to allow eBook publishers to sell books from their applications without paying Apple a percentage of each book sold.

This article may contain affiliate links. Click here for more details.