Apple Intros Multi-Touch Magic Mouse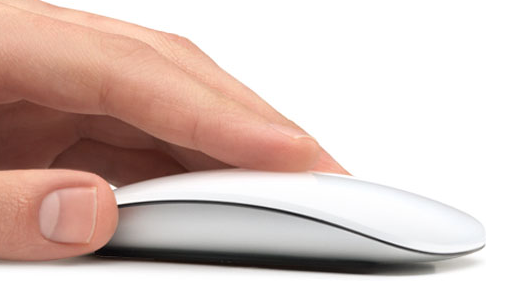 Apple's ditched the awful Mighty Mouse and replaced it with the Magic Mouse, the first mouse to incorporate multi-touch technology. As you can see in the photo of the Magic Mouse, the top of the mouse is completely smooth. Gestures and taps replace clicking and scrolling with physical buttons and a scroll wheel.
Apple claims the mouse will offer an iPhone-like touch experience and I'm hoping that's accurate. I have a Logitech MX Air mouse with a touch-enabled scroll wheel and it takes time to get used to not having a physical scroll wheel.
Apple has a demo video of the Magic Mouse on the bottom of this page that shows how you can swipe, zoom and scroll 360-degrees with the mouse.
The Magic Mouse will come with new iMacs and will be available on its own for $69 at Apple Stores and authorized resellers later this month. The mouse requires Snow Leopard.