iOS 6 Ready to Support Taller iPhone 5
While leaks of the iPhone 5 show a taller screen we haven't seen any proof of the taller display in IOS 6 until now.
According to 9To5Mac the iOS simulator built into the iPhone SDK shows how iOS handles a larger screen. To for a larger screen the publication set the simulator to stretch the screen to 640×1136, the rumored resolution of the new 4-inch screen in the next iPhone. In iOS 5.1 the screen simply stretched and placed the icon further apart, but not in iOS 6.
In the iOS 6 simulator and extra row of icons appears at 640×1136 resolution. The layout looks just like the layout on current iPhones, it simply has an extra row above the dock, which makes for a total of six rows of icons (five excluding the dock).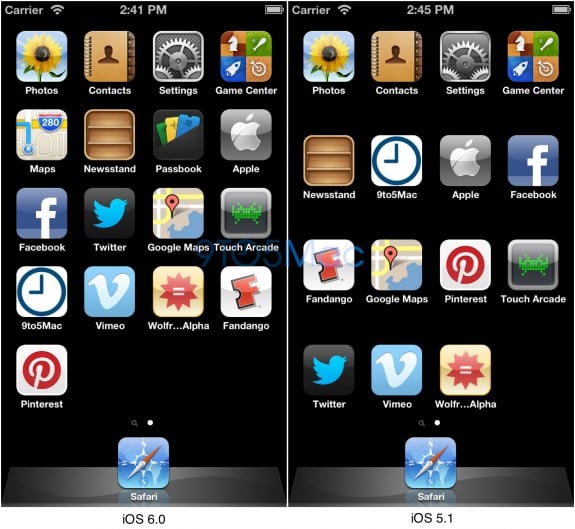 Perhaps more interesting is the extra row of icons doesn't appear at any other resolution. At anything above or below 640×1136 the fifth row of icons disappears and the simulator simply increases the space between the four rows of icons. That proves that Apple i at least testing an iPhone with the taller resolution.
Assuming the iPhone 5 has a 640×1136 display, we have to wonder how apps will scale. Current apps run at 640×960. Developers will need to fill those extra 178 pixels somehow, and if the September 12 launch and September 21 release are true, they will only have nine days to fill them. Apps like Tweetbot and Facebook likely aren't too hard to change, but games like Fieldrunners 2 and The Walking Dead might take longer to update.
We like the idea of a taller iPhone 5, especially one with 4G LTE and possibly NFC. We just wonder how Apple will make the transition easier for developers.

As an Amazon Associate I earn from qualifying purchases.