Apple iPad 2 Coming to Radio Shack Tuesday
Apple's iPad 2 sold out in the U.S. and internationally, but a new shipment may be coming to a Radio Shack near you on Tuesday, March 29. With retailers, such as Best Buy and Target, and wireless carriers Verizon and AT&T already, there will a half-dozen major retailers carrying the iPad 2 come Tuesday.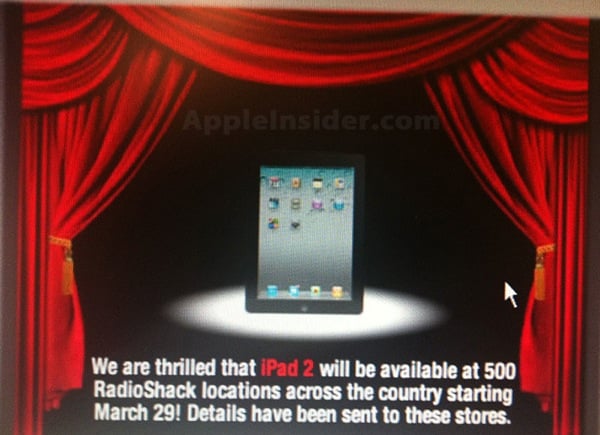 Apple Insider says they have confirmed the report that the iPad 2 will be available at 500 Radio Shack stores nationwide in the US. This comes from a "corporate memo scarce on details."
If your local Radio Shack is one of the lucky 500, its employees already know, according to the memo.
Radio Shack has been a partner of Apple's since last year when it began offering the iPhone. With the iPad 2 still in short supply, it looks like there will be lines so you better arrive early. There's no mention if all 18 models will be available at every store, so go with your expectations low. Radio Shack does not currently offer Verizon Wireless service or devices that run on its network, but it does offer a range of devices that run on AT&T's network.
Update: 9to5Mac has managed to find Radio Shack's hidden iPad 2 page and yes, it will be coming tomorrow folks.

As an Amazon Associate I earn from qualifying purchases.