Apple iPad 2 Digital AV Adapter Works with Other iOS Devices
One of the accessories that we learned about at the Apple iPad 2 announcement Wednesday is a digital AV adapter that connects to the iPad's dock connector and sends the image to an external monitor or projector through an HDMI cable. The display is mirrored on the external display, meaning you can see exactly what you are doing on the iPad on the display.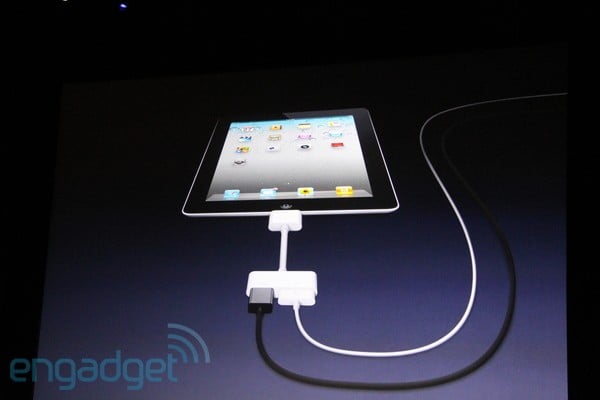 Fortunately, the dongle will also work with older iOS devices. So you can connect your old iPad, the iPhone 4, or a fourth-generation iPod Touch to an external monitor.
The $39 adapter will be available on March 11 along with the new iPad. We can see many applications for this. For example, I plan to give it a try by displaying video from my iPhone on a projector at our church. My wife currently puts her iPhone on a document camera that is connected to her classroom projector. This solution should be much better. She can play the educational games with her kids and hold the iPhone instead of awkwardly bending over the document camera.
We will give you an update as to how well this works when it comes out.
Image source: Engadget

This article may contain affiliate links. Click here for more details.