Apple iPad 2 Online Order Time Announced: 1AM PST, 4AM EST March 11
Apple has finally announced its official plans for online ordering of its new iPad 2. As was previously reported, they will be allowing buyers  purchase online before the iPad goes on sale in stores. Apple will start taking online orders starting at 1:00 AM PST or 4:00 AM EST. We have our suspicions that pre-orders were disallowed because they want long lines.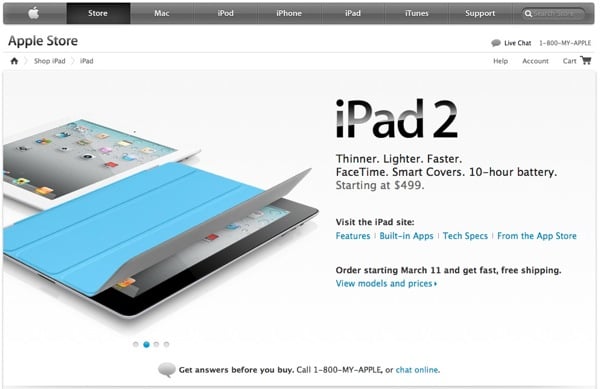 The announcement really touts the value of getting the iPad in the store. You get "free Personal Setup service" which is their set up for those who are not confident enough to get their own system registered and things like their email accounts or calendars working with the device.
As previously announced, the iPad 2 will be ready for purchase at 5:00 PM local times at Apple Stores, Best Buy, Target, Verizon Wireless, Walmart and AT&T stores. The availability at all but AT&T and Verizon were already announced. However, today the two wireless carriers made it official that they would be selling on launch day as well.
Want to get an iPad 2, but not sure which one is right for you? Read our guide to figuring out which iPad 2 is right for you.
How do you plan to get your iPad?