Apple Gives iPad mini Owners Free Dock…2 Min. of Labor Required
Apple provides every iPad mini owner with a free dock, but there is of course a catch. iPad mini users will have to sacrifice their tablet's box and put in a couple of minutes of labor to transform it into a very usable stand and charging station.
Apple sells the Smart Cover for iPad Mini for $39, which in our opinion is a bit much for a flop of polyurethane and some magnets. You can read our full Smart Cover for iPod mini review here. We have seen pictures and promos of dozens of iPad mini cases with built-in stands, but many that we like aren't shipping yet, limiting iPad Mini owners' options for the time being. Apple, unfortunately, doesn't sell a proper iPad mini docking station or stand.
Read: Best iPad mini Cases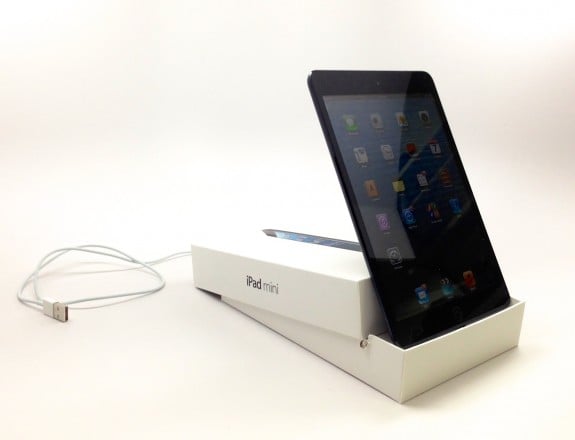 But iPad mini owners don't have to wait to get a very usable stand that can hold their tablets been several angles in both portrait and landscape mode. Instead, only need to do is break out a knife and cut a few notches and two holes in their iPad mini boxes. In the video below, you can see the results. It works great for charging and using the iPad mini on my desk in portrait mode. I prefer placing FaceTime calls and using several apps in portrait mode, something the Smart Cover isn't designed for. I have to cut the notches just a little wider to make the stand work properly at angles in landscape mode.
The free docking station can support the iPad mini in three angles in portrait mode and two angles in landscape mode. iPad mini users can of course cut more or fewer notches so they can use the device at desired angles. The Lightening cable runs through a hole in the bottom half of the box, with the connector poking through the front edge.  The top half of the box supports the iPad mini by slipping into the notches on the bottom half of the box.
One nice thing about the iPad mini box stand is that it elevates the bottom of the tablet about 1.5″ off of the user's desk. This makes it easier to view content and tap the home button.
Of course the iPad mini box docking station isn't for everyone and I'm pretty sure it doesn't meet Apple's standards, but it works and it's free. What more can you ask for? One thing to think about before cutting into your iPad mini box is that it'll be impossible to return the device to Apple or other retailers, unless they make exceptions to their policies.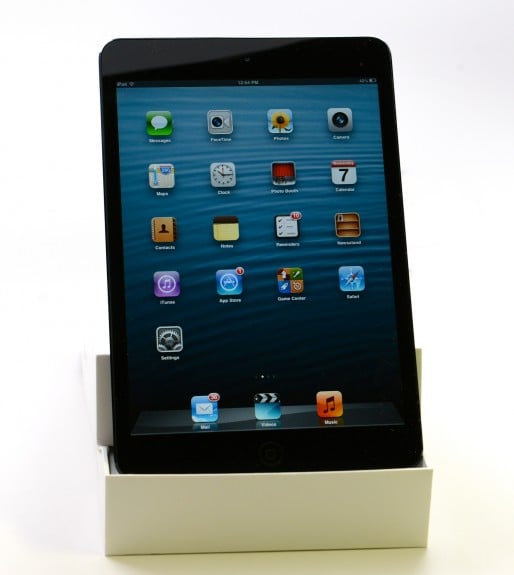 As an Amazon Associate I earn from qualifying purchases.