Apple iPhone 5c Preorders Now Live at Apple's, Carriers' Site [Updated]
After having taken the Apple online store down for maintenance ahead of the iPhone 5c's post-midnight preorder commencement on September 13th, Apple's store is now back online and in business. Customers who are interested in the colorful plastic iPhone 5c smartphone, which starts at $99 for 16 GB of storage and 4G LTE connectivity, can now head to store.apple.com to begin the preorder process. The phone will be available at the four major U.S. carriers as well through AT&T, Sprint, T-Mobile US, and Verizon with T-Mobile the only carrier selling the phone full price as it no longer offer two-year contracts nor phone subsidies through the un-carrier initiative. Additionally, Apple is also making a SIM-unlocked version available for shipping by September 20th as well for preorders.
Preorders went live first on AT&T Mobility and Verizon Wireless, with both carriers' webpages ready to go just after midnight. T-Mobile's webpage for preordering was live about 8 minutes after midnight leaving Sprint as the last of the four major carriers to be up for preorder. At the time of this writing, Sprint's site for preorders isn't live yet.
[Update: Sprint's site is good to go for preorders a little over half an hour after midnight Pacific Time.]
Unusually, it seems that Apple's iOS app was open for preorders on time. Apple's online store at store.apple.com just opened for preorder about 12 minutes after midnight.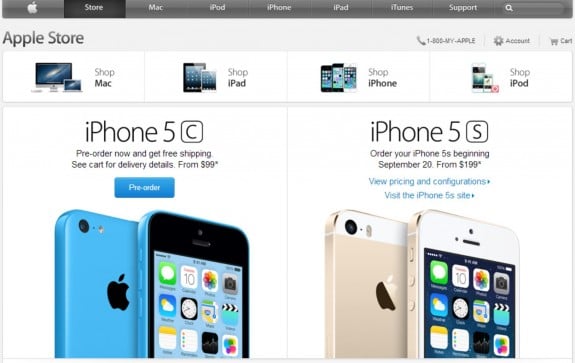 Best Buy's, Target's and Radio Shack's webpages were not available for preorders at the time of this writing and customers may be able to start the preorder process in the morning when those retailer's physical stores begin opening up for business.
It's unclear at this time how much inventory of the iPhone 5c Apple has reserved for preorders. In the past, the company has sold out of its preorder inventory rather quickly. Customers who are interested in the phone should preorder as soon as possible to ensure that they will get the device shipped to them by September 20, otherwise they would need to wait in line at one of Apple's retail channels to ensure that they would get the phone on launch date.
Customers who preorder the iPhone 5c could either choose a contract-free edition through T-Mobile on Apple's website as well as a SIM-free, unlocked edition for use with any GSM carrier. Both these models will also ship by September 20th for preorders as well. This is a change from the past as Apple usually ships the carrier locked versions first and then make the SIM-unlocked edition available a few months later.
This year, Apple had introduced two new smartphones, with the plastic-bodied iPhone 5c representing the mid-range model. Apple had also introduced an iPhone 5s at the premium segment as well. That device features a metal body with a similar design to the iPhone 5, but this time Apple has added a new dual LED flash, new camera sensor at the same 8-megapixel resolution, and a biometric fingerprint sensor.

This article may contain affiliate links. Click here for more details.