Apple iPhone 5S to Include New Technology Focus on Motion, Fitness
Apple announced today a new chip focused on motion, and they're calling it the M7. The company says it works alongside the new A7 processor in the iPhone 5S as a motion co-processor, and it will essentially enable a new generation of health and fitness apps, according to Apple.
The M7 chip is in charge of measuring motion continuously using a combination of the accelerometer, gyroscope and compass. Apple also introduced the CoreMotion API, which app developers can use to optimize their fitness apps to work better with the iPhone 5S. For example, Nike is one of the first companies on board with a new app called Nike+ Move, and it uses the new M7 chip, along with GPS, to track your motion during your workout.
The M7 chip will work alongside the iPhone 5S's new A7 processor to deliver more-accurate results when working out, but we're guessing the M7 chip will be used for much more than fitness apps in the future. Apple didn't discuss too many details on the M7 just yet, but with the API in the hands of developers, we should be seeing a lot of uses for the new chip.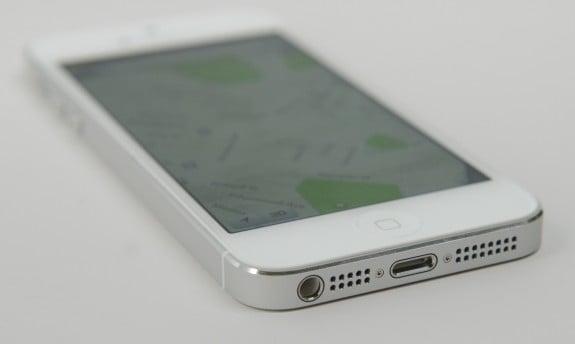 As for the iPhone 5S itself, it's Apple's new flagship smartphone that sports the same exterior design as the iPhone 5, but it now comes in more colors, including gold. The interior has seen a respectable refresh, with an all-new processor that's also the company's first 64-bit smartphone chip. Apple claims that the new processor sees a 40x bump in performance and a 56x bump in graphics performance — an incredible bump if you ask us.
The camera on the iPhone 5S has also seen a nice boost. While keeping the same 8-megapixel sensor, Apple has improved the camera overall with an f/2.2 aperture and a sensor that's 15% larger that lets in more light. The camera can also take photos in a 10fps burst mode, as well as record 120fps slow-motion video. Apple put a lot of focus on the camera, as it always does with every new iteration of the iPhone.
To learn more about the iPhone 5S, be sure to check out our announcement post. Apple also unveiled a new, lower-cost iPhone 5C that comes with a plastic outer shell and iPhone 5 internals.

This article may contain affiliate links. Click here for more details.