Apple iPhone 5s v. Nokia Lumia 1020: What to Buy
Given the popularity of both of these smartphone models today from a photography perspective with their outstanding camera performance, a comparison between Apple's flagship and Nokia's PureView flagship seems like a natural face-off. However, given that both devices run different operating systems and come with different usage paradigms, this comparison will be more than just the hardware that separates the best-in-class iOS smartphone and the best-in-breed camera phone. To look at the Lumia 1020 and the iPhone 5s–two devices that I do not leave the house with every day–we'll also scratch the software surface, which will allow for a preliminary comparison between iOS and Windows Phone.
Camera
We'll start this comparison off first with the most important feature that users will look at when considering a purchase of either smartphones.
Lumia 1020: On paper, the Lumia 1020 has impressive camera specs, and thankfully our time with the phone shows that Nokia can deliver in real world performance as well. It has a larger camera sensor for better light capture, a high resolution 41-megapixel camera sensor to retain the smallest and finest of details in every shot, optical image stabilization with a ball bearing mounted sensor to eliminate camera shake in video recording and allow for low light photography without the need for artificial light, and when you do need some light to assist the photo, a strong and capable Xenon flash. These specs alone are great, but how does the camera perform?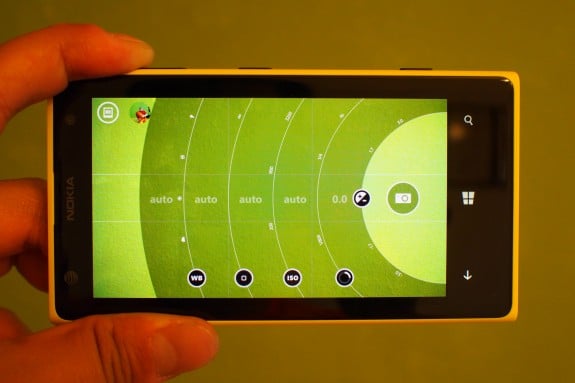 The camera offers a lot of flexibility with a plethora of manual controls, and the Lumia 1020's low light performance is unrivaled by any competition. To put it simply, the camera is in a league of its own and discerning photographers should be wise to pick one up as the resulting images shared on Facebook, Flickr, Instagram, and other social sites show what the Lumia 1020 is capable of in capable hands. Shake-free videos, stellar audio capture capabilities in video recording mode, and RAW image support for editing highlight some of the capabilities of the 1020. Really, for what this camera sees and captures, Nokia could have called it the 20/20.
Be sure to check out our Lumia 1020 review for sample images taken with the Lumia 1020's camera and a comparison with shots captured with Samsung's Galaxy S4 and Apple's iPhone 5 at the time.
The camera phone even got celebrity endorsements, like that from musical artist 50 Cent.
"I got a new phone today it's kinda HOT," 50 Cent wrote on Instagram referring to the Lumia 1020.  "The camera on it is killing my other phone."
One thing to keep in mind is that though the performance of the Xenon flash has improved with the Nokia Black update, using the Xenon flash could lead to some yellowing of photos, especially with skin tones.
iPhone 5s: Though Apple has not chased after the megapixel count as some of its Android rivals and the iPhone-maker has stuck with an 8-megapixel sensor once again on the iPhone 5s, the camera on the iPhone 5s may be just the best all-around camera for many people–novices and experienced photographers alike. It doesn't have the PureView claims that the Lumia 1020 has, but a simple to use interface and the ability to repeatedly get good, if not great, results mark the iPhone's camera as a hallmark feature in smartphone photography.
This time around, Apple has made the camera sensor slightly larger, added a dual-tone, dual-flash module so that skin tones will look more natural, and enhanced the dynamic range of the sensor for regular and panoramic HDR captures. Slow motion video recording for dramatic effects, and added filters really make things simple for the consumer. For me, though, the best part about the iPhone's camera is that Apple has nailed exposure down for high contrast situation, like taking a photo of a darkened wall next to a bright sun-lit window. I can tap on the wall to focus and lock exposure to the wall to brighten up the wall and bring out the details from the shadows, or tap on the window to reduce contrast and bring out details in the bright spot. It's a simple thing, but one that few other rivals have mastered as eloquently as on the iPhone.
So which camera is better? If you take pictures in a dimly lit house, restaurant, or bar a lot and would rather not use the flash because it ruins the ambient lighting around you, the Lumia 1020 is just the best in class camera. For every day shooters, the iPhone 5s does a stellar job. Where Nokia really shines is with its optical image stabilization and stereo audio recording capabilities in videos along with the ability to deeply zoom into a photo and not lose details thanks to the ability to capture the full image at 41 megapixels of resolution. Nokia had really rethought zooming with the 1020 as you don't need a bulky optical zoom lens a la Samsung's Galaxy S4 Zoom to achieve some level of zooming.
General Performance
Most phone reviews focus on hardware specs, which may not be an accurate indicator of general performance of a phone. The Lumia 1020 would appear to be a middling device amid the sea of quad-core, full HD or better powerhouses from Android and the iPhone 5s' conservative 4-inch screen may seem archaic when viewed against a backdrop of near-phablet Android phones. So how do these phones compare against each other and against a wider array of flagships on the market–not from a specs perspective, but from a performance angle?
Lumia 1020: Microsoft went through great lengths to control the Windows Phone ecosystem in an Apple-like way, abandoning its open Windows Mobile strategy that is most closely emulated by Android today, in an effort to give all devices great performance regardless of what's under the hood. On paper, a 720p display, dual-core CPU, and a rapidly growing ecosystem of digital content that is still dwarfed by what's available on iOS and Android may make the Lumia 1020 look underwhelming, but don't let that fool you. Performance is smooth, and the only time you'll ever notice any sort of slow down is in between capturing images. The Lumia 1020 will save a 5-megapixel image for easy sharing on social media as well as either a high resolution 41-megapixel image or a RAW file, so it does take a second or two of additional time to write those files.
iPhone 5s: Performance on the iPhone has always been smooth and the 5s model is no different. Transitions and animations are buttery and apps launch instantaneously without any lags or delays. And unlike some of the Android models that could stutter if you're a heavy user with a huge collection of apps, you won't find any of that here. Like the Lumia 1020, Apple will lock you into its experience so you won't find any alternative third-party launchers. Fortunately, though a robust collection of apps and digital content are available to satisfy your cravings and curiosities.
Windows Phone 8 v. iOS 7
Though there are a lot of similarities to how locked down iOS and Windows Phone are, the experiences in using each individual OS couldn't be any more different. The Lumia 1020 is powered by Windows Phone and gives it access to Microsoft's content and services while Apple controls the experience of iOS 7. We won't do an in-depth comparison here and will just gloss over the surface to the experiences.
Windows Phone: The Lumia 1020 operates with a main Live Tile screen that gives you quick access to information at a glance. It's something that's different from what's on the market, and though a lot of people I've encountered were skeptical about the UI and OS at first, they converted rather quickly when they saw the capabilities and potential. You won't get rich notifications like you do on iOS and Android, which isn't necessarily a bad thing as most of my notifications are for distractions for me–Facebook posts, Instagram likes, and Twitter. Instead, I prefer to create groups for my work associates, closest friends, and family, and then when I click on the group tile, I can see all my dearest contacts' updates and new postings. It's a nice way for me to stay in touch and minimize the distractions when on Windows Phone.
Another simple thing is the arrangement of apps into hubs. Though with the latest Nokia Black update, folders are possible for grouping similar apps together, I like the hubs idea as when I open my Music + Videos hub, for example, I not only see all my content related to that hub, but I also get ready access to third-party apps that fall into this category, like Pandora, TED Talks, and Spotify.
And lastly, a dedicated camera button on the right spine of the phone to have quick access to the camera even when the phone is in standby is a simple feature that's nice to have on a photography powerhouse.
And though there is a lot to like about the Lumia 1020, there's also some sorely missing features. Voice command seem to be an after thought compared to Siri on the iPhone, and Microsoft could do better to match Google Now's predictive assistant features. On the other hand, you have native access to services like Skydrive–or OneDrive as its new name will be–and Microsoft Office on your phone.
iPhone 5s: The iPhone 5s is all about the apps. You won't have any launcher screens to highlight your personal content–like widgets on Android or tiles on Windows Phone. Instead, taking a Palm OS-like approach from yesteryear, your home screen will feature icons for each installed apps that can be grouped into folders or rearranged.
It's not a bad paradigm as it keeps things simple and clutter-free, but as OSes and UIs evolve, this minimalism may be overly simplistic for some users who crave more personalization and a focus on content that has made apps like Flipboard and Facebook's new Paper a success on the market.
What the iPhone delivers, though, is one of the best push notification systems on the market. If you go crazy with third-party apps, be expected to have your pocket chiming and buzzing frequently with notifications for news, social networks, emails, sports, weather, and other content. The notifications will give you access to your last few most recent alerts so you won't lose track of them when a new alert comes in for an app.
Ecosystem
Sure, a phone can run great and connect to the fastest mobile broadband LTE networks, but it is not that useful without access to the richest content out there on the Internet. From Google's services–YouTube, Gmail, Google+–to the best social networks in the form of Facebook, Twitter, and LinkedIn to a robust collection of e-books, digital magazines, movies, TV shows, and other content, there will likely be something for most people on either platform, either in the form of official apps or third-party apps to fill in the gaps.
Lumia 1020: The Lumia 1020 just got a bit better with Microsoft releasing Xbox Music and Xbox Video apps fairly recently, which gives the device access to TV shows and videos to buy a la carte and take on iTunes. Still, there isn't a Microsoft store yet for magazines and e-books, though you can find suitable alternatives in Amazon's Kindle and Zinio's newstand apps. There are a few notable absences as well, including Barnes & Noble's Nook app. Still, Windows Phone's app ecosystem is quickly growing in recent months with official additions like Instagram, Path, and Pandora.
The only problem with going with the Lumia 1020 is that Google's spat with Microsoft means that you won't find many Google services on the Lumia. Gmail is supported through the Email hub, though apps like YouTube, Google Maps, and Google+ are sorely missing. If you're a Google Voice user, Google says that it will be ending support for third-party Google Voice apps, leaving Windows Phone Google Voice users in the dust later this year.
iPhone 5s: Apple popularized the App Store after having conquered digital music sales through iTunes, and the iPhone 5s has the best selection of apps out there with robust offerings from Apple through iTunes. On paper, it may look like the iPhone 5s' ecosystem may just outshine Windows Phone's growing catalog, but the Lumia 1020 does have a commendable selection of apps, both official and third-party titles that fill the gap. It really depends on what you use. For me, using Pandora, HERE Maps for turn-by-turn navigation rather than Google Maps, Chase for mobile banking, Kindle, Yelp, OpenTable, and Instagram along with Facebook, Twitter, and LinkedIn, Windows Phone covers my needs fine in the app department.

As an Amazon Associate I earn from qualifying purchases.