Apple iPhone 5s v. Nokia Lumia Icon: What to Buy
As Microsoft's crop of Windows Phone becomes ever more powerful this year, those devices–dominated by Nokia and with help from Samsung and HTC–will likely be compared to the powerful and popular iPhone. Given that the iPhone 5s released in late 2013 comes with Apple's best in terms of camera, performance, and a wholly re-designed iOS 7, we'll have to see how Apple's best smartphone in history stacks up to Nokia's best all-around Windows Phone 8 device to date with the Lumia Icon. Can the Icon make an iconic dent in Apple's iPhone 5s sales?
READ: Nokia Lumia Icon Review
Design
Both Apple and Nokia have been lauded over their respective phone designs for being modern, simple, yet alluring. However, those praises come long ago and both the Lumia Icon and iPhone 5s are now sporting more mature designs as part of their product life cycles. So how do the respective designs mesh and mash up?
iPhone 5s. The iPhone 5s design is borrowed from the iPhone 5, which could be seen as an extension of a design that Apple iconically introduced with the iPhone 4 and used again on the iPhone 4s. Rather than a glass sandwich of the 4 series, the 5 series with the 5s sport a unibody aluminum enclosure with chamfered side bezels, glass plates for the top and bottom, and a sapphire glass lens enclosure for the improved 8-megapixel camera.
New this year to the iPhone 5s is Apple's TouchID fingerprint sensor. In reality, TouchID doesn't do much, save for unlocking your phone and allowing you to make App Store and iTunes purchases without requiring you to peck out the alpha-numeric passwords. There's also a new M7 Motion Coprocessor that allows the iPhone 5s to constantly monitor physical activity, and third-party apps can tap into this data to record information like steps taken. This may be Apple's first attempt at exploring the health and fitness segment, and there are rumors that future iPhones and iWatches will be able to do more.
Even if the design of the iPhone 5s is getting to be a bit stale, a bright 4-inch display is welcomed, and many still value Apple's more compact screen size as it allows the iPhone to be operable easily with one hand.
Where Apple really went out and made changes is with the software. With the new iOS 7 operating system, in spite of some early problems, the OS is now a lot more modern. Gone is the skeuomorphic design and in is a flattened UI that's colorful, bright, and appealing.
Lumia Icon. Though the Lumia Icon doesn't sport the same "fabula" pillow-top design language that's found on some of Nokia's other pones–including the Lumia 920, the Lumia 925, and Lumia 1020–the angular Icon borrows its design from Verizon's older Lumia 928. Interestingly, though, Nokia was able to increase the display to 5 inches on the Icon without increasing the 928's footprint too much by slimming down the side bezels.
And though the Icon isn't quite as luxurious as the iPhone 5s' all-metal design, the use of metal on the sides of the phone, a curved polycarbonate back, and a hefty weight make the Icon feel like a sturdy, well-built device. Additionally, I do like the curved glass on the display, which not only adds a bit of character but makes swiping more easy on the screen.
Speaking of the display, Nokia made the display usable even with gloves on, perfect for residents of colder climates. And for users in sunny heat, the Lumia Icon's ClearBlack Display technology means that the screen is even readable under direct sunlight without too much glare. It's a nice treat for anyone who uses their phones outdoors frequently.
And though the Icon's design may look uninspired, it's more conservative and understated nature makes it elegant and functional at the same time. The straight side edges are perfect for standing your phone up, good for using the camera with a timer and getting in on group photos.
And though the Icon may look like a large phone, it's not much bigger than the Lumia 1020 and a lot more compact than the 1520. With best-in-class specs for a smartphone today–ample RAM, quad-core Snapdragon 800 CPU, and a full HD 1080p display–the Icon screams performance.
Camera
Despite Nokia's efforts in recent years to inspire a new photo revolution with smartphone cameras, the iPhone's popularity often means that Apple's smartphone is typically the one taking and sharing photos. With Apple placing a bigger emphasis on the camera and Nokia's new 20-megapixel sensor, does Nokia have what it takes to outshine the iPhone?
iPhone 5s. At a glance, the iPhone 5s camera may not appear to have changed from the camera system on the preceding iPhone 5. Both devices sport a sapphire glass lens and an 8-megapixel camera sensor in an era where Samsung and LG are both touting 13-megapixel flagships. However, Apple did make some tweaks under the hood, and the whole is greater than the sum of the parts.
By using a slightly larger sensor size while still sporting the same megapixel resolution, the iPhone 5s is able to capture more light, making it better in low light situation and for high contrast photos where an HDR mode would be needed. And if you are in need of some artificial lighting help, the new dual-tone dual-LED flash on the rear of the phone helps the iSight camera capture skin tones more naturally so you don't either look like a ghost or an Oompa Loompa as some phones make you appear.
The nice part about the iPhone 5s is the HDR mode with panoramic photos. Here, you will be able to retain details in both the shadows (dark areas of a photo) and the highlights (areas that would be clipped because they are too bright, like the sky on an overcast day). In sum, the small improvements that Apple made add up to a whole lot of change.
And though it's gimmicky, the slow motion video recording mode with the camera is a nice party trick that adds a little bit of fun to videos.
But overall, though the iPhone doesn't scream DSLR replacement in the same vein as the Lumia 1020, the iPhone 5s is a nice all-around consumer camera. I do appreciate Apple's algorithms on nailing the exposure and focus. With tap to focus, Apple really does a great job in a high contrast situation of getting the exposure right. Suppose you're taking a picture of a dark wall with a bright window. Tap on the window, and it would make the exposure in the window correct while dimming the walls further. Tap on the walls and it would make the exposure of the wall correct, brightening up the wall but at the same time slightly clipping out the details of the bright window. It's easy on the iPhone though not many other manufacturers are able to get this right.
Lumia Icon. The Icon extends Nokia's focus on photography further and not only is Nokia giving photographer of still images a valuable tool, but it's also extending its innovations to videographers as well.
With the Icon, once again we have a largely unrivaled low-light shooter. Nokia's optical image stabilization mechanism allows the camera to use a slower shutter speed in low light situations. To the consumer, this means you don't even need to activate the dual-LED flash on the rear and you'll still get a brightly lit image with no blur.
In daylight, the 20-megapixel camera captures a lot of details, and this is apparent when you're zooming into things. You'll likely zoom into the background and find details that you've never seen before, and it definitely allows you to tell a different story with your images as you zoom in and out and reframe your shots. Nokia calls this lossless zoom, and it's a digital zoom in reality that is far superior to the iPhone's 8-megapixel sensor as you'll still be able to retain a lot of details despite the zoom.
Where the Icon really shines is videos. OIS allows videos to be stable and shake-free, great for play back on a larger HDTV as to not induce motion sickness on your viewers. Additionally, with 4 microphones and Nokia's Rich Recording technology, the Icon can also record sound in videos with isolated stereo surround sound. You'll have true left and right channel audio recording, which you can really hear and appreciate when you're playing back on a 2.1 or 5.1 surround sound system.
But the Rich Recording extends further–even if you don't need cinematic sound quality. If you frequently go to concerts, loud environments, noisy bars, you'll likely notice that sound fidelity recorded with your typical smartphone camera sucks and you don't have rich audio fidelity. Not so with the Lumia. Whereas other phones would clip sound at higher decibel levels–like at a concert–where you would get a garbled, compressed audio file, the Icon shines through and it sounds like you're there in person. Active noise cancellation means that if you're recording some blow out candles at a birthday party in a bar, you won't get muddled background noise in your video as well. It sounds impressive, but Nokia's imaging and video tech really does work impressively well in real world situations, and you may not even appreciate it until you attempt to replicate the same photo or video capture on a rival smartphone.
Experience
Simplicity is generally the key driving force behind iOS and Windows Phone whereas rival Android is focused on openness and doing more. So is one platform necessarily better than the other? We'll try to explore some of the basic nuances driving iOS and Windows Phone in this comparison.
iPhone 5s. The iPhone 5s operates on Apple's latest iOS 7 operating system that tones down the skeuomorphic design elements in favor of something a bit more modern yet at the same time playful with bright, pastel colors. It's a welcomed change, though mostly cosmetic. The main ways to interacting with the iPhone are by tapping on the icons in the grid to launch apps on the home screen, and by using Siri to dictate, command, and query via voice. Siri is an intelligent personal assistant that allows you to navigate your phone, search the Internet, and perform tasks.
With one of the best push notification engines out there, third-party apps can also tap into the iPhone to bring you the latest updates without you needing to open the app and checking for new items. This is great for messaging, news, sports, stocks, and other time-sensitive updates. A unified notifications drawer at the top allows you to see all your alerts in one place.
And speaking of apps, the App Store has the best–if not one of the best–collections of titles for download and the iTunes store for digital content–music, movies, TV shows, books, and magazines–is largely unrivaled on any other platform currently.
Where the iPhone really shines is iCloud and iMessage. Serving as Apple's pseudo-social network, iMessage is integrated with the iPhone's SMS or text messaging app and if you're messaging another iOS user, the SMS app will deliver those messages via iMessage. This allows you to save on SMS charges, though iMessage will use a small amount of data. Where iMessage shines now is on planes. With many U.S. flights now offering WiFi connectivity, users can now send iMessages to each other in the air, a feat that is not possible with SMS, which is delivered over a cellular network.
Lumia Icon. The Lumia Icon relies on Microsoft's Windows Phone operating system and with it the device inherits all the pros aand cons of the Microsoft way of life. Integration to Microsoft Office on the go, OneDrive connectivity built-in, and Live Tiles that keep you up to date with the latest updates are all standout features, but does Windows Phone, a distant third behind iOS and Android, have a shot at winning against the iPhone?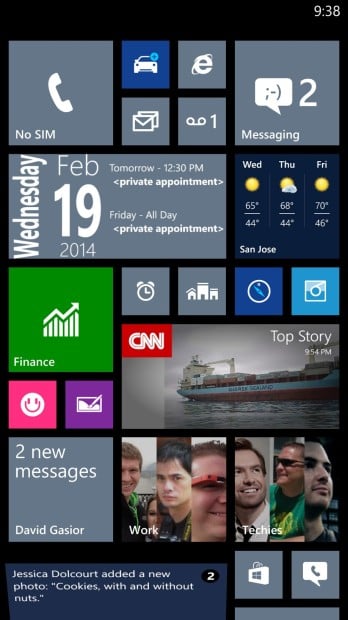 Unlike iOS where your home screen is just a grid of apps, Windows Phone has two main screens. A Start Screen is populated with a vertically scrolling list of Live Tiles that animate to give you the latest updates. The Live Tiles are important as currently there is no unified notifications tray like on iOS and Android, and Live Tiles largely fill that gap. It's similar to the idea of widgets on Android, but much easier as it's just one screen of vertically scrolling rather than multiple pages where you have to remember which home page a specific widget is on to find it.
A second screen displays all your installed applications in another vertically scrolling list by alphabetical order.
And though there is beauty in simplicity, Microsoft may have dropped too many balls early on to make things simple. For instance, we had mentioned no unified notifications engine. There are no quick widgets to toggle important settings like WiFi, Bluetooth, and airplane mode. Additionally, the volume controls are all tied to one volume level so you cannot independently adjust volume for notifications, ringtones, music playback, and other content. You're either going to get everything all loud, or all soft, depending on your adjustment, which universally affects all sounds across the system.
That's not to say that there isn't much to love about Windows Phone. I appreciate the hubs and Live Tiles because it groups things together and allows me to stay in contact with my important contact. For example, creating special groups for specific contacts, I can get all the social media updates from my favorite friends, including recently posted photos, Twitter updates, and Facebook wall posts. In the Photos Hub, I appreciate the fact that I can, in one place, get access to the photos I've taken with the stellar ZEISS-powered 20-megapixel PureView camera, but I can Facebook photos and see all the apps that tap into photo in one central hub that I can launch to edit or peruse more images.
Though Windows Phones may appear hard to use at first, I've given the Icon to several friends who had no experience with the platform before and they walked away at the end of their time exploring the Icon loving the Live Tiles and the new paradigm for computing. It does get some acclimation, like all new things in life, but Microsoft did a good job on making Windows Phone simple enough for users to appreciate while still being powerful enough.
Nokia also added a lot of its own DNA into the mix with a robust catalog of apps that expand the experience. The Nokia Mix Radio app is a Pandora-competitor, HERE Drive challenges Google Maps in offering downloadable maps with free turn-by-turn voice guided GPS navigation, and Creative Suite allows users to edit photos and add filters and effects in post-processing.
Where Microsoft is showing its weakness specifically is with the ecosystem. You won't find a lot of hardware or content for Windows Phone as you would for rival platforms. On the hardware side, don't expect a Mophie or Lifeproof case just yet and for the content side, Microsoft still is lacking a storefront for e-books, digital magazines, and comics. The Xbox Video store is still small in comparison to iTunes movies and TV shows selections. Xbox Music is a nice feature with subscription and a la carte offerings.
But don't dismiss Windows Phone just yet. Though its catalogs aren't as big as those for iOS and Android, there are still some major developers creating content for the platform. For now, apps like Amazon Kindle and Zinio fill the gap for reading material and Pandora and Spotify are there for more diversity in the music category. Microsoft also is growing its collection of apps so likely you'll be able to find a third-party alternative for your favorite apps if an official version isn't available. Though Instagram, currently in Beta, is a recent addition, third-party apps like Instance and 6tag already offer rich features that tap into Facebook's wholly owned social image service.
Conclusion
There are enough unique features in both phones that make choosing one over the other difficult, and Lumia and iPhone hopefuls really do have a lot to think about. On one hand, the iPhone taps into a large user base with its iMessage offering and FaceTime is a nice video chat service that is only available to iOS users. On the other hand, if you care about recording quality videos or take impressive photos, the Lumia's camera is mostly left unchallenged as rivals try to catch up to Nokia's leadership in this space.
Then, there is the question of ecosystem. If this is a primary concern, iTunes still wins hands down and the availability of cases, skins, covers, and docks available for iPhone owners just blows away any available third-party accessories for Windows Phone. You can tap into fitness gears, health monitors, security systems, home automation kits, and more with the iOS platform currently.
Given the richness of the ecosystem for the iPhone, it's hard to recommend the Lumia Icon over the iPhone unless you're focused solely on photos and videos. If you are, there is no better phone than a Nokia with a PureView camera.

As an Amazon Associate I earn from qualifying purchases.