Apple iPhone 6 Plus Leather Case Review
The Apple iPhone 6 Plus leather case isn't cheap, but it is worth the price and an excellent option for users who want a a minimal iPhone 6 Plus case that feels great.
Apple's leather iPhone 6 Plus cases fit the curved frame of the new iPhone like a glove, keeping much of the original design intact, and adding much needed grip.
The tactile feel of nice leather and the fact that it adds almost no bulk to the already large iPhone 6 Plus makes this an easy case to recommend.
Available in five colors, the Apple iPhone 6 Plus leather case is $49. This is a lot considering most users just paid $299 to $399 for a new iPhone 6 Plus, but for the price Apple delivers a great case.
If you need a lot of protection you should look at an OtterBox or some other type of case. The official Apple leather iPhone 6 Plus case only offers minimal protection from small drops, scratches and average day to day use. It is not designed for a construction site or heavy outdoor activity.
The brown leather iPhone 6 Plus case from Apple looks great on the large silver iPhone 6 Plus. With last year's model the iPhone 5s leather case wore particularly badly fading colors quickly. The red iPhone leather case turned black in some places.
So far the brown Apple iPhone 6 Plus leather case is not changing colors, and neither is a red iPhone 6 leather case in use by another team member. This is after several weeks of use. These leather cases will show some signs of scratches and wear more than a plastic case. After a month of use the brown leather iPhone 6 Plus case looks almost like new while the other case includes a few small marks where part of the leather scuffed out slightly.
This official Apple iPhone 6 Plus leather case covers the power and volume buttons in leather and they don't stick out as much as they do with no case. It's tough to find the power button sometimes, but when you do it is responsive even under the leather. There is an opening for the mute switch and the bottom edge of the case is wide open to leave access to the headphone jack, lightning port and speaker.
Although the case is slim, it is just thick enough to make the iPhone 6 Plus camera flush. There is an Apple Logo on the back of the case, right where it is on the iPhone.
There is a small lip on the iPhone 6 Plus case that removes the ability to slide your finger up the curve and across the screen for gestures. The case doesn't get in the way of gestures, but even with a curved edge on the case it's a small and noticeable change from using the iPhone 6 Plus without a case. The lip can help prevent a broken screen if you drop the phone face down.
iPhone 6 Plus case options are growing, and there are many cheaper options out there, but the Apple iPhone 6 Plus leather case is worth the $49 price for users who want a minimal, protective case that looks and feels great.
Check out other iPhone 6 Plus cases in the roundup below.
7 Awesome iPhone 6 Plus Cases
Spigen iPhone 6 Plus Cases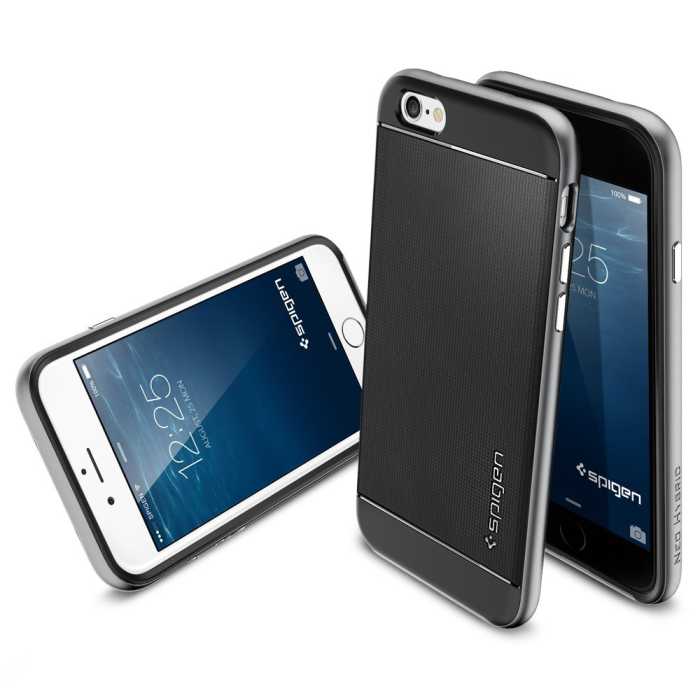 If you need an affordable iPhone 6 Plus case, Spigen is one of the best options you will find. Spigen offers a wide variety of iPhone 6 Plus cases from super thin to protective options and even a few iPhone 6 Plus wallet cases.
The company also offers an iPhone 6 Plus case with a kickstand, which is an excellent way to easily use that big screen for movies, videos and FaceTime.
Check out all of the Spigen iPhone 6 Plus Cases on Amazon starting at $7.99.