Apple iPhone 6 Rumors Detail Key Features
New iPhone 6 rumors and leaks point to better display technology and a new iPhone 6 battery details. Displays and battery life are
An iPhone 6 with a new Sapphire display that is resistant to scratches is closer to reality as a new Apple patent shows how the company can make a Sapphire display resistant to fingerprints as well.
Apple invested over half a billion dollars in GT Advanced Technologies in 2013, to secure the company's Sapphire creation abilities and reports indicate Apple is pushing for speedy production at the U.S. facility and expanding the factory to ramp up for a new product that uses Sapphire.
A separate series of iPhone 6 rumors point to iPhone 6 battery production and assembly changes for the new model, which bring more automation to the process.
iPhone 6 Display Rumors
Apple is not talking about the iPhone 6 at this time, but multiple reports outline plans to use a larger display in the iPhone 6 with a Sapphire cover instead of a chemically strengthened glass like the iPhone 5s uses. The current iPhone display does not scratch easily, but after six to 12 months some iPhones start to show scratches on the screen from jewelry, keys and other objects.
Apple uses Sapphire on the iPhone 5s lens cover, to prevent scratches from ruining photos and in 2014 the iPhone 6 could feature a Sapphire display that is very hard to scratch.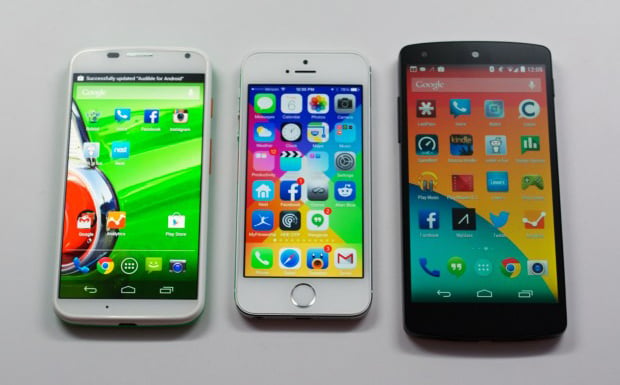 This new Apple patent, discovered by Apple Insider shows that Apple overcame a major hurdle to introducing Sapphire display covers on an iPhone or iPad. The Oleophobic coating on Sapphire patent outlines how Apple can apply a coating to a Sapphire display cover in bulk that lasts longer than previous coatings.
An Oleophobic coating is found on current iPhone and iPad glass displays. The purpose of this technology is to prevent oil from fingerprints and from a users' face from sticking to the touchscreen. Oil buildup is not pleasing to look at and it can degrade touch screen performance.
In the patent filing Apple talks about using the process on a phone or tablet, specifically talking about the display window on these devices. The first image on the patent shows an iconic iPhone design with a physical home button, but the patent text uses a broader phone and tablet description.
Sharing additional details on this patent, Matt Margolis an analyst that routinely covers Sapphire and GT Advanced technologies outlines what this means for Apple and what technology Apple may use.
"What is interesting is that this patent allows for the oleophobic coating to be applied to a brick of sapphire and not having to apply it to each cut screen individually i.e. the patent allows for batch processing. The process used to coat sapphire screens is different from traditional glass screens. The patent mentions PVD and sintering as options. Apple and GT may be leveraging GT's SPS technology for sintering to get this job done in the most efficient way possible Spark Plasma Sintering (SPS)"
If Apple is able to bulk apply this coating to the Sapphire, it could play a role in streamlining the production and keeping the price of more expensive Sapphire covers in check.
iPhone 6 Battery Details
The iPhone 6 battery details that consumers want to know the most about are missing, like size and capacity, but a new set of iPhone 6 rumors claims to shed some light on the process.
DigiTimes reported earlier this week that Apple is looking to shift iPhone 6 battery assembly from the hands of workers to automated machines. This would reduce Apple's need for workers in China where minimum wage is rising. The iPhone assembly process is currently very labor intensive with 300,000 people working on the iPhone 5s production line in late 2013.
A 2012 report claimed the iPad involves 325 hands touching the device over a five-day period, which illustrates the labor needs for a similar Apple product. The same report shared that the iPhone takes 141 steps from start to finish of assembly.
A second DigiTimes report claims Apple is already placing iPhone 6 battery orders as the company prepares for a launch later this year.
Read: iPhone 6 & iOS 8 – 5 Features to Complement a Big Display
The iPhone 6 is an unannounced device that analysts expect Apple is planning to release in 2014. Most iPhone 6 release date rumors suggest the phone will arrive this fall in August or September. Reports indicate buyers can expect an iPhone 6 with a bigger display, and many rumors point to a 4.7-inch and 5.5-inch iPhone 6 models.
For the fastest rundown of iPhone 6 rumors read, 10 Important iPhone 6 Details from March 2o14.

As an Amazon Associate I earn from qualifying purchases.