Apple Explores Buying Jay Z's TIDAL to Get Kanye & Others
Apple Music users may soon get access to more exclusives and first listen to music from Kanye, Rihanna, Beyonce, Prince and other groups if rumors that Apple plans to buy Jay Z's TIDAL are true.
Jay Z bought TIDAL in 2015 and relaunched the service with star-studded exclusives including Kanye West's The Life of Pablo, and exclusive first access to Beyonce and Rihanna albums on the service.
If talks pan out, Apple Music listeners could get first access to the biggest new albums, giving the service an edge on Spotify.
The Wall Street Journal reports that Apple is in talks with Jay Z to buy TIDAL. Jay Z spent $56 million to buy TIDAL in 2015. Apple bought Beats Music to launch Apple Music.
TIDAL currently has 3 million subscribers, compared to Apple's 15 million and Spotify's 30 million subscribers based on numbers from March.
A report from March indicates that Samsung passed on buying TIDAL to build a bigger Apple Music competitor and compliment Samsung's Milk streaming services.
The biggest appeal of TIDAL for Apple is the locked down exclusives from big stars like Beyonce and the Prince. TIDAL is the only place to stream Prince music at this time.
For users the current state of music streaming means that they need to subscribe to more than one service if they want to listen to all their favorite artists. Adele and Taylor Swift are on Apple Music. Beyonce and others are on TIDAL. Spotify does not offer big name exclusives, but delivers a better app experience.
The news comes as Apple Music competitor Spotify claims Apple will not approve an app update to give Apple Music an edge in the online streaming service. Spotify is the largest streaming music competitor to Apple Music.
Apple Music launched last year and Apple plans an overhaul to the look and feel of the Apple Music app in the iOS 10 update that arrives this fall.
What's New in iOS 10.1
What's New in iOS 10.1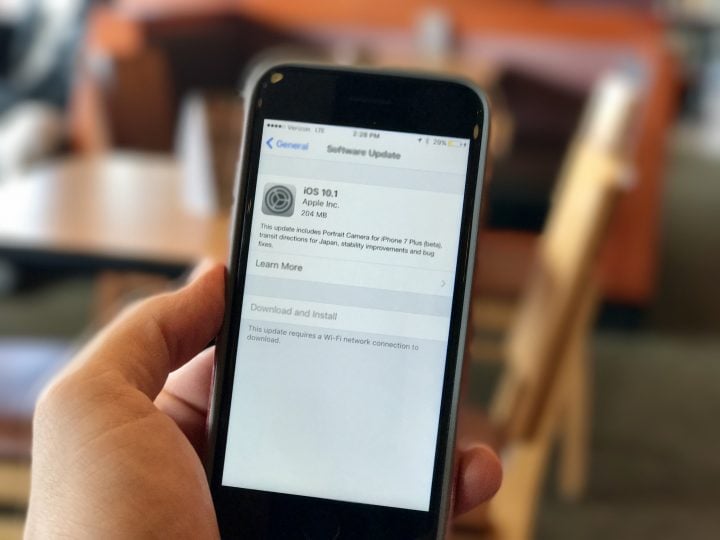 This is a list of what's new in iOS 10.1, including new features like Portrait mode on the iPhone 7 Plus and a number of important fixes for the iPhone and iPad.
Camera and Photos

Introduces Portrait Camera for iPhone 7 Plus that creates a depth effect that keeps your subject sharp while creating a beautifully blurred background (beta)
People names in the Photos app are saved in iCloud backups
Improved the display of wide color gamut photos in the grid views of the Photos app
Fixes an issue where opening the Camera app would show a blurred or flashing screen for some users
Fixes an issue that caused Photos to quit for some users when turning on iCloud Photo Library

Maps

Transit support for every major train, subway, ferry, and national bus line, as well as local bus systems for Tokyo, Osaka, and Nagoya
Sign-based transit navigation including layouts of all underground structures and walkways that connect large transit stations
Transit fare comparison when viewing alternative transit routes

Messages

New option to replay bubble and full screen effects
Messages effects can play with Reduce Motion enabled
Fixes an issue that could lead to contact names appearing incorrectly in Messages
Addresses an issue where Messages could open to a white screen
Addresses an issue that could prevent the report junk option from displaying with unknown senders
Fixes an issue where videos captured and sent in the Messages app could be missing audio

Apple Watch

Adds distance and average pace to workout summaries in the Activity app for outdoor wheelchair run pace and outdoor wheelchair walk pace
Fixes issues that may have prevented Music playlists from syncing to Apple Watch
Addresses an issue that was preventing invitations and data to appear in Activity Sharing
Fixes an issue that was allowing Activity Sharing to update over cellular when manually disabled
Resolves an issue that was causing some third-party apps to crash when inputting text

Other improvements and fixes

Improves Bluetooth connectivity with 3rd party accessories
Improves AirPlay Mirroring performance when waking a device from sleep
Fixes an issue where playback would not work for iTunes purchased content when the "Show iTunes Purchases" setting is turned off
Fixes an issue where certain selfie apps and face filters used with the FaceTime HD Camera on iPhone 7 and iPhone 7 Plus did not display a live preview
Fixes an issue in Health where individual strokes are converted to separate characters when using the Chinese handwriting keyboard
Improves performance of sharing websites from Safari to Messages
Fixes an issue in Safari that caused web previews in tab view to not display correctly
Fixes an issue that caused certain Mail messages to be reformatted with very small text
Fixes an issue that caused some HTML email to be formatted incorrectly
Fixes an issue that in some cases caused the search field to disappear in Mail
Fixes an issue that could prevent Today View Widgets from updating when launched
Fixes an issue where Weather widget sometimes failed to load data
Fixes an issue on iPhone 7 where Home Button click settings would not appear in search results
Fixes an issue that prevented spam alert extensions from blocking calls
Resolves an issue that could prevent alarm sounds from going off
Fixes an issue where audio playback via Bluetooth would cause the Taptic engine to stop providing feedback for some users
Resolves an issue preventing some users from restoring from iCloud Backup
For information on the security content of Apple software updates, please visit this website: https://support.apple.com/HT201222

Keep reading to check out the iOS 10 features and iOS 10.1 features that these updates offer.