Apple Leads the Tech Pack in Earth Day PR
Earth Day 2014 is here and with it are activities and promotions to highlight the benefits and necessity of doing what we can to protect the planet we live on. Communities and companies around the globe are making special efforts to help clean up our environment and bring focus to efforts we and they can make, not just one day a year but ongoing. Those of us who love tech, mobile and otherwise, know that we too can take the initiative to help keep the planet a little tidier and perhaps a little cooler. When it comes to our gadgets and accessories we can quickly end up with quite a pile of stuff that needs to go somewhere when no longer needed.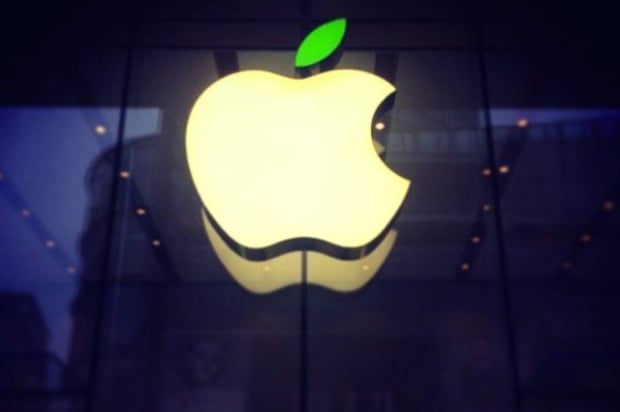 This year, Apple is making a big PR push to highlight its efforts to help with gadget recycling, to use renewable energy, and generally create an impression that it is the leading eco-friendly tech company. Apple is going all in with its efforts on a number of fronts.
Apple is changing up its Apple logo on stores to feature a green leaf peeking out of the top of the familiar once-bitten fruit symbol.
Apple employees will be wearing green t-shirts to raise awareness in its retail stores.
Apple created a new microsite to also focus on its efforts that contains sections on how Apple recycles materials, works to minimize toxins in the building of new devices, and also works to have its products use less energy overall. When you first go to the site you are treated to a new video entitled "Better," narrated by Tim Cook that spells out Apple's commitment to renewable energy and green initiatives.
https://youtu.be/EdeVaT-zZt4
Apple has also significantly changed its policy to make it easier for consumers to recycle gadgets. Apple previously had a policy of recycling gadgets and devices, but it varied based on the device. For example, those who wanted to recycle a Mac or iPad had to fill out a form and then receive a pre-paid packing label to ship the device to a center. iPhones and iPods could be brought directly into a store. Now any consumer can bring any Apple product to any Apple store and have it recycled. In some, but not all, instances, depending on the condition of the device, consumers can receive a gift card in exchange.
And Apple took out full page ads in some newspapers touting its efforts, but also tweaking its rival Samsung in the ongoing legal battles over patent infringements. The ads say that some things are OK to copy, implying that that eco-friendly policies are something Samsung should consider. Apple has accused Samsung of copying a number of its patents. The ad will certainly power some ongoing anger between the two companies in that dispute.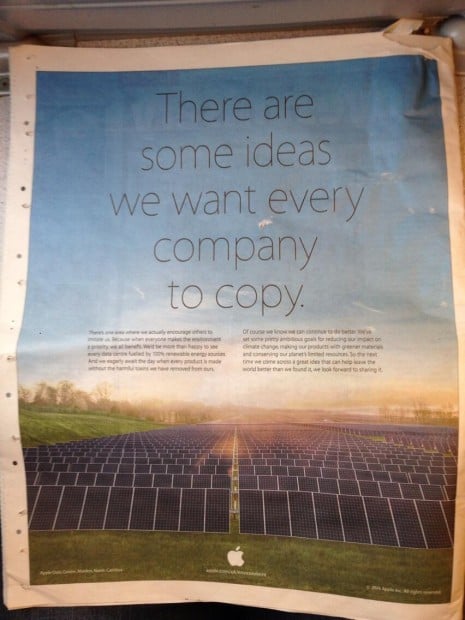 Those who follow Apple news may recall Tim Cook at a recent shareholder meeting sternly responding to questions about its green initiatives from the National Center for Public Policy Research. The NCPPR wanted Apple to disclose to investors how much it spent on those initiatives, suggesting that these Apple initiatives did not help maximize shareholder value. The NCPPR wanted Cook to commit on the spot to doing things that were in the best interests of profits. Tim Cook, in a pointed response basically suggested that those who didn't like these efforts should "get out of the stock."
Apple's commitment to earth-friendly policies is a big one, and when a company has the resources to invest efforts in eco-friendly sustainable programs it is certainly laudable. Apple also has the resources and desire to out-publicize other initiatives from other companies and make its efforts newsworthy. And there are indeed other initiatives out there for this year's Earth Day observances, as well as some that are ongoing. Here are a few:
Facebook has a new App called "Billion Acts of Green" that allows users to choose actions such as writing a letter to Congress to support various green initiatives via legislation and also consumer actions like planting a garden, using public transit, or getting a home energy audit.
Microsoft is also publicizing how it's trying to reduce its energy footprint internally as well as with all of the computing equipment that runs Microsoft's stuff scattered around the globe. 

Best Buy is touting its reputation as a gadget recycling center, saying it is recycles 387 pounds of electronics every minute. Best Buy is continuing an Earth Day sale on appliances.
Gazelle.com, the gadget recycling operation that many use to sell older gadgets is also pushing its ongoing recycling efforts. Gazelle recycles 100% of the gadgets it buys from users in one way or another.
Google has followed its pattern for special days and created a new logo on Google.com, this year featuring an animated hummingbird amidst flowers.
UPDATE: Those interested in the Nest smart thermostat can now find it available on the Google Play store. The Nest thermostat is designed to program itself based on how sensors read your activity in order to save on heating and cooling costs and maximize efficiency. If you make a purchase from that source, Google will plant a tree for each Nest thermostat sold on Earth Day.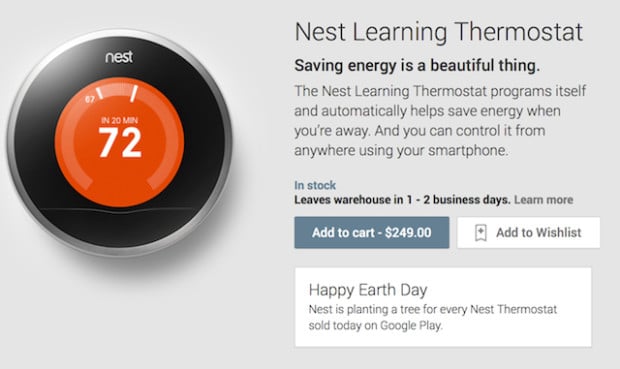 And don't forget your local community resources on Earth Day or any day. Most local recycling centers have days where they accept electronics, if they aren't equipped to do so every day. Some communities have special days where you can place electronics on the curb for local pickup. In some communities you need to take the gear you want to recycle to a center. Check with your local resources to find out what's available in your area.

As an Amazon Associate I earn from qualifying purchases.