Apple MacBook Air Refreshed with Lion, Sandy Bridge and More
Apple briefly closed the virtual doors of its online Apple Store in order to reveal "The new, faster MacBook Air" still available at $999. The new MacBook Air models include faster processors, Thunderbolt OS X Lion and a backlit keyboard. Sadly, Apple dropped the lower end white unibody MacBook.
Processor and Graphics
The new MacBook Air still starts at $999 for an 11.6″ ultra-portable machine running the new OS X Lion. The new Air sports Intel Core i5 or i7 Sandy Bridge processors with speeds of 1.6 GHz on the lowest end an 11.6″ model with a 1.8 GHz option available. The larger 13.3″ Air will ship with a 1.7GHz processor and a 1.8 GHz option available. Unfortunately the graphics chip is still just the Intel integrated graphics with a dedicated chip unavailable.
Thunderbolt
Base models contain the new Thunderbolt port, which provides speeds up to 20 times faster than a typical USB port. Apple includes this new connection on all of its new Macs starting with the MacBook Pro released earlier this year. Users can daisy chain in a series multiple devices for storage, display and more to a single port.
Flash Storage
The Flash storage replaced traditional spinning hard drives on the previous refresh. These new models push the speed a little with a slightly faster version. We heard rumors that the smallest drive available would be 128GB. That rumor was wrong. The 11.6″ model starts with a 64GB drive just like last year's model. You can opt for a 256GB drive on the smaller Air this time and a 128 or 256 GB drives on the larger.
Backlit Keyboard
The Air shines with a new blacklit keyboard like the first generation model and all of the company's MacBook Pro models. Fans of the line were disappointed when last year's model left out backlighting so Apple brought it back.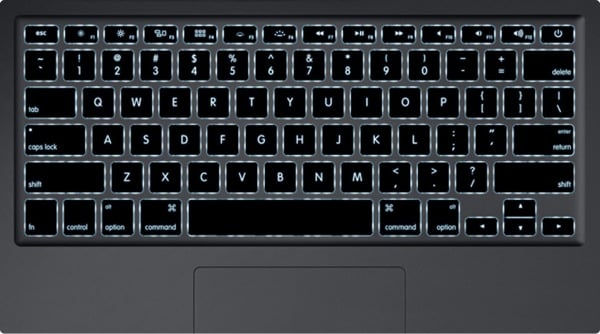 Pricing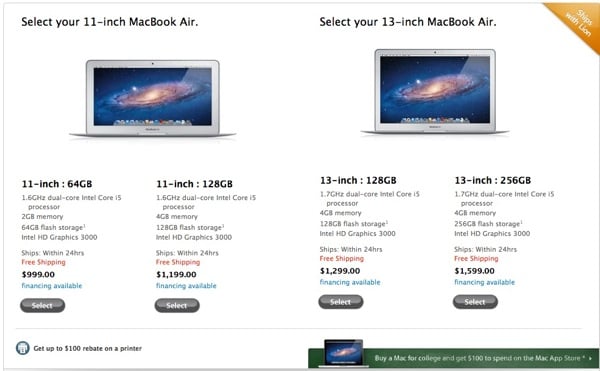 Four different base models will be available as follows:
If you want you can change the configuration of the above options by clicking the links and changing upgrading processors or storage specs. For example, maxing out the 13.3″ model with the faster 1.8GHz Intel Core i7 processor bumps the price to $1,699. The 11.6″ model can be maxed out with a 1.8GHz Intel Core i7 processor and 256GB of storage for $1,649.
OS X Lion
During their quarterly earnings call Apple confirmed that Lion would ship today. The refreshed Apple MacBook Air will run the upgraded OS out of the box while older Macs will require an upgrade downloaded from the Mac App Store.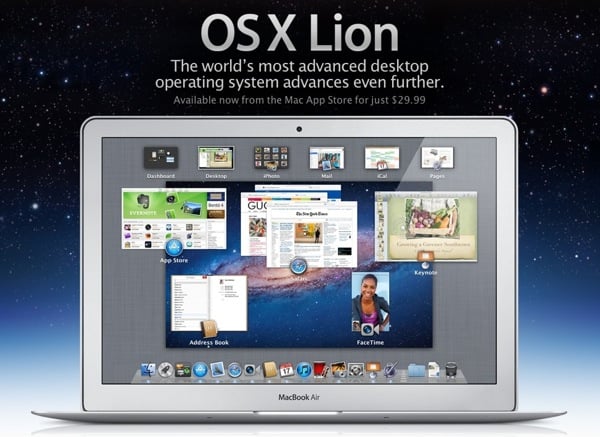 Apple Mac App Store finally shows the link to upgrade to the new OS which for the first time can only be downloaded from the App Store unlike past OS X upgrades which were available via optical disk. Apple will reportedly sell OS X Lion on a USB drive at retail locations in August.
Detailed Specs
The technical specs for the new MacBook Air are as follows:
Screen Size: 11.6″ and 13.3″
Resolution: 11.6″ is 1366×768 and 13.3″ is 1440×900
Dimensions: 11.6″ is 11.8″x7.56″x.11-.68″ and 13.3″ is 12.8″x8.94″x.11-.68″
Weight: 11.6″ is 2.38 lbs and 13.3″ is 2.96 lbs
Storage: 11.6″ offers 64 and 128 GB SSD while 13.3″ offers 128 and 256 GB SSD
Processor: 11.6″ has 1.6GHz Intel Core i5 up to 1.8GHz Intel Core i7 and the 13.3″ has 1.7GHz Intel Core i5 up to 1.8GHz Intel Core i7
Memory 11.6″ has 2 or 4GB of RAM while 13.3″ has 4GB in base model
Graphics: both have Intel HD Graphics 3000 processors with 11.6″ model has 256 or 384GB of shared RAM and 13.3″ model starts at 384GB
FaceTime Camera
Thunderbolt Port
2xUSB 2.0 ports
Headphone and Mic jack
13.3″ model has a built-in SD card reader
Battery Life: 11.6″ = up to 5 hours, 13.3″ up to 7 hours
802.11n Wi-Fi and Bluetooth 4.0
45watt Magsafe Power Adapter

As an Amazon Associate I earn from qualifying purchases.