Apple MacBook Pro with Retina Display Refurbs $100 Off
Apple customers can save some money on MacBooks and other products by checking the company's refurbished store. They recently put the latest MacBook with Retina Display on clearance. Refurbished products come with the same warranty as brand new MacBooks because Apple takes returned or display computers and restores them to like-new condition and sells them at a slight discount. The average discount with these machines is $100 under brand new prices.
At the moment Apple lists five models for sale starting with the 13.3-inch MacBook Pro with Retina Display. It includes a 2.9GHz Dual-core Intel Core i7 processor, 8GB of memory and a 256GB flash drive for faster performance and boot times. The computer costs $1,799. That's the same price a buyer would pay for a brand new non-retina model. It's like getting the retina display for free. Normally this machine will eat $1,899 from a buyer's bank account.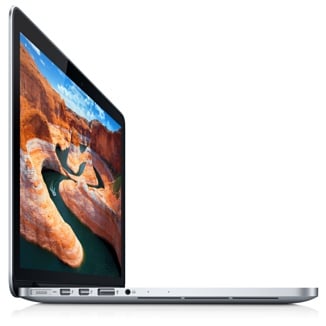 Lower the processor speed to 2.5GHz, an infinitesimal change, and double the SSD storage to 512GB for only $100 more. Apple also lists a 13.3-inch MacBook Pro with Retina Display with a 512GB drive but the same 2.9GHz model for $2,099. Doubling the storage adds $200.
All of the 13.3-inch models come with Intel HD Graphics 4000. This makes them great for business use and light creative duties and gaming. For those needing more power, select one of the two 15.4-inch models Apple lists.
The lower cost 15.4-inch MacBook Pro with Retina Display costs $2,099 and comes with a 2.3GHz Quad-core Intel i7 processor, 8GB of RAM and the 256GB SSD. It also adds the much more powerful NVIDIA GeForce GT 650M mobile graphics processor with 1GB of GDDR5 memory. That's a powerful machine capable of almost anything a user might need in terms of power and speed in a MacBook.
For $2,499 a buyer can get a faster 2.6GHz processor and twice the storage with a 512GB drive. That seems like a lot for just another 256GB of storage, but remember these new thinner MacBook Pros with Retina display don't come with traditional notebook drives that the user can swap out themselves to upgrade. 256GB of storage isn't enough for serious creative types who edit large RAW images or HD video. People who download a lot of video, store a lot of music or install a bunch of software will feel cramped in a 256GB machine.
For comparison, consider the slowest MacBook Pro with Retina now available brand new comes with a 2.4GHz processor. An 8GB of RAM model with 256GB of storage costs a customer $2,199, or $100 more than the cheapest refurbished unit listed.
We recommend getting these deals soon because the models listed change often in Apple's refurbished store. They also sell out fast since MacBooks don't go on sale as much as other company's computers.