Apple Makes App Store Ratings Easier To See
Today Apple made a minor change to the iOS App Store to make age ratings more visible than before.
The iPhone and iPad App Store age ratings now appear in small icons below the name and developer of apps so users can see them with minimal effort. The rating icons merely show recommended age for the app, similar to an ESRB rating for games, or an MPAA rating for movies.
As always, users can scroll down the page in the App Store to see why the app or game has its current rating. The descriptions will tell the user if there is any violence in the app or game as well as sexual content, references to drugs or alcohol, suggestive themes and crude humor, among others.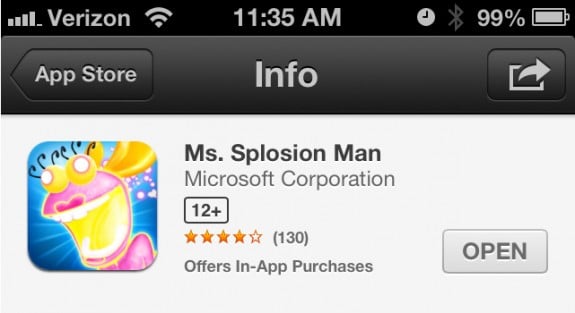 Apple's current rating includes 4+, 9+, 12+ and 17+. Many featured apps in the App Store have ratings of 9+ or 12+ (even newspapers like The Washington Post have 12+ ratings) and a few 4+ apps (like National Parks by National Geographic).
The current rating system is similar to the ESRB ratings for video games. The two systems have similar age ratings, though the ESRB uses names for its ratings instead of levels. The video game rating system uses Everyone, Everyone 10+, Teen and Mature (along with the rarely used Earl Childhood for toddlers and Adult Only).
There is a big difference between the systems, however. To receive an ESRB rating game developers submit short videos showing all the potentially violent portions of the game to the board, which uses groups of random adults to rate each game.
App developers set their own rating for iOS apps, though Apple does review those ratings to make sure they fit the app.
Users concerned their children may download apps that aren't appropriate for them can set their iOS devices to only allow apps with certain ratings. The option is in the Settings app, under General and Restrictions.

As an Amazon Associate I earn from qualifying purchases.