Apple Makes In-App Purchases Easier to See with iOS 7.1.1
In a move that makes so much sense, Apple has made it easier to determine which Apps feature in-app purchases in some places in the App Store. The move came with the release today of iOS 7.1.1 for the iPhone, iPad, and iPod Touch lineup of Apple devices. In-app purchases are a valid business model for developers, but have caused some strain on the system and a few pocketbooks when some consumers or their children didn't realize they were spending money every time they clicked on a link for such an in-app purchase.
The changes to the App store show up in Top Charts listings, and in some special category listings of Apps such as Sports Apps or Great Free Games. App shoppers will see a small "In-App Purchases" disclosure immediately below the price of the App. Users scrolling through the Top Free, Top Paid, and Top Grossing charts will see the listings.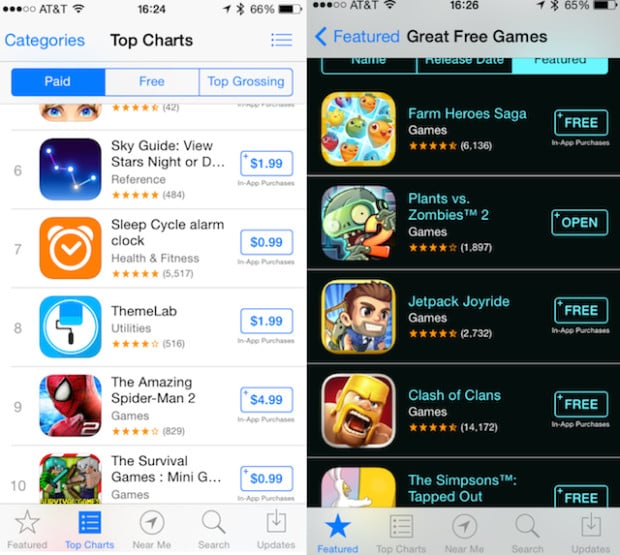 Apple has been disclosing which Apps offer In-App Purchases on the detail pages of specific Apps since March of 2013. This latest change comes after a recent January 2014 settlement with the Federal Trade Commission (FTC) that had Apple dolling out $32.5 million in refunds to parents whose children were making unauthorized in-app purchases. Beginning with iOS 7.1, which was released just over a month ago, Apple has been required to obtain express consent from consumers before billing for any in-app purchase.
Apple has been continually changing things since the in-app purchasing model gained popularity and led to issues with children clicking on in-app purchasing links to the dismay of their parents. While the in-app purchasing model obviously worked for developers and Apple, parents began complaining to the FTC in 2011. Apple now requires a separate passcode entry for an in-app purchase as well as providing multiple notifications before a purchase is completed.
Users can turn turn on restrictions that will prevent in-app purchasing or other activity by following these instructions:
Read: How to Turn Off In-App Purchasing on the iPhone.
The new notifications will certainly not stop all inadvertent or ignorant in-app purchases, but they certainly will help consumers see which Apps use that model in a clearer fashion. Clarity is always a good thing.
What do you think? Will the new changes by Apple help cut down on inadvertent in-app purchases? Will it hurt developers who rely on that business model?

As an Amazon Associate I earn from qualifying purchases.