Apple Making Bigger iCar Push With Automotive Job Postings
New automotive-centric job posting may indicate that Apple is making a bigger push into the telematics space and potentially deliver a vision of its iCar. Before his passing, Apple co-founder and late CEO Steve Jobs had dreamed of re-inventing the automotive space and challenging Detroit, and it looks like Jobs' larger iCar vision is being carried out by Apple's current leadership.
Rather than a fully Apple branded car, a series of new job postings reveal that Apple wants to hire talent to test various components designed for various auto manufacturers.
The most recent listing, posted by Apple Insider, details a Software Quality Assurance Manager to test iOS integration with car stereos.
"Apple is looking for a Software Quality Assurance Manager to drive iPod/iPhone/iPad integration testing with car stereos. In this role you will be a hands-on manager, guiding the team to test car stereo compatibility with iOS products."
There are two additional listings posted in late February, according to the Apple-centric publication, detailing jobs for the iOS Car Services. Positions are for application and framework development for Apple's mobile platform.
Siri Eyes Free
Apple's most recent public foray into the car is in the form of Siri Eyes Free. The feature focuses on safety and allows drivers to navigate the phone entirely with their voice. It has gained the support of a number of auto manufacturers and is still being slowly introduced in new car models.
Siri Eyes Free turns off the phone's display when activated, and Siri can be commanded via a steering wheel button where the phone would read, understand, and ask for spoken commands.
Before Siri Eyes Free, Apple had worked with automakers in integrating iPod and iPhone models to the car.
Official iPad Integration
Apple has also been busy with partnerships for its tablets. Announced at the Geneva Auto Show recently, Ferrari has announced that its FF coupe will utilize two iPad mini tablets mounted to the headrest to provide in-car entertainment for passengers in the rear seats.
Ferrari isn't the first to offer the concept as Bentley had shown off working iPad integration on its Mulsanne in late 2011, featuring two iPads with keyboards on a tray table for rear passengers as well as a Mac Mini.
Patents for iCar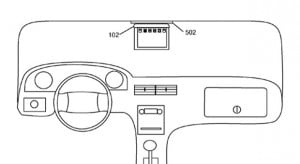 Recently uncovered patent filing suggests that Apple is working on ways to mount the tablet in the car. Apple had envisioned using the magnets of its Smart Cover to mount the tablet inside vehicles on the dash. The iPad can even be mounted on the ceiling of a car like a drop-down screen on a tour bus or an airplane.
It's unclear if Apple will bring iOS natively to center console displays, but the patent would allow tablets to be mounted in the center of the car to be used in conjunction with or as a replacement to in-dash units.
This idea has been done before with car enthusiasts at SoundMan Car Audio.
New Apple Maps
Apple has also experimented officially with an in-car navigation app through its own internally developed Apple Maps App for iOS devices. The app was criticized when it was released for poor instructions, but Apple's management promised fixes that would improve the experience. The Maps app is the first time that Apple is delivering a native turn-by-turn voice-guided GPS app.
The Race for the Car
As penetration for smartphones is starting to peak and the tablet market will become even more competitive, various mobile players are eyeing the car and home for new opportunities. AT&T had introduced its vision for the car, and Sprint is bringing broadband connectivity to a number of vehicles. Verizon's working on LTE for the cars and BlackBerry's QNX OS powers the in-dash system in many current vehicles. Potentially, Apple may hope that its iOS ecosystem can be ported to power the car's dash and be more integrated into the vehicle, providing GPS, apps, streaming content, access to the Internet, and also vehicle information.