Apple Maps Replaces Google With TomTom, OpenStreetMaps and "Others"
Apple is abandoning abandon Google Maps data in iOS 6, partnering with a number of other companies to create a much better Maps app.
According to The Verge, Apple is using data from TomTom and OpenStreetMaps and "others" in its new Maps app. Apple doesn't specify which companies it uses for which feature, though we assume the maps themselves come from OpenStreetMaps and TomTom supplies the tun-by-turn directions support.
The "others" listed in the app are likely the companies that Apple bought to help build the new app. Companies like C3 that showed a demo of its 3D maps technology shortly before Apple bought the company.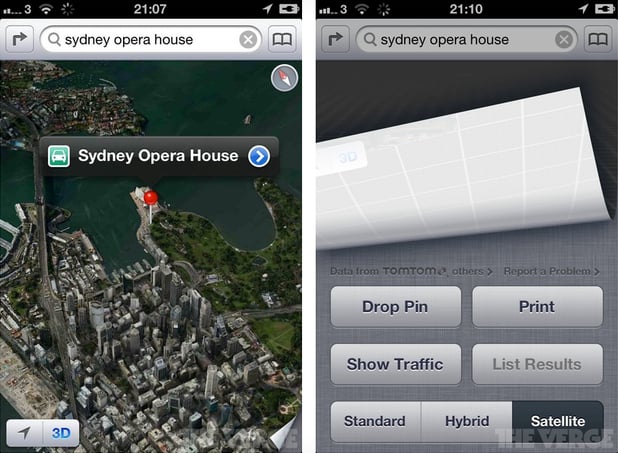 Apple also has help from Yelp, which is providing reviews for locations in the Maps app.
With its aggregation of data from a number of sources Apple was able to create a new Maps app that looks much better than the old version, which relied on Google Maps. The old version seems downright archaic, as it has for years. Despite advances in the Google Maps app for Android, the iOS Maps app never gained important features like turn-by-turn directions.
By using a number of companies for its Maps app Apple is able to play to strengths of each. Google Maps is a great product, though its Navigation isn't also perfect. TomTom made Personal Navigation Devices long before Google started Maps, so it should produce better results for navigation.
We don't know what deal Apple made with TomTom, but we assume it's a good one. Otherwise we see no reason TomTom would jeopardize the sales of its iOS navigation apps.

As an Amazon Associate I earn from qualifying purchases.