Apple Music is Apple's new music streaming service for the iPhone, iPad, and OS X that allows users to listen to any available song on-demand, as well as get access to hand-picked playlists and curated radio stations.
Apple Music launched on June 30 alongside the iOS 8.4 update, and it's Apple's official dive into the music streaming market after first dabbling with music in 2001 with the introduction of the iPod and the launch of the iTunes Store in 2003. The company is now aiming to compete against the likes of Spotify, Pandora, Rdio, Tidal, and more.
Apple Music is integrated into iOS's Music app, which means both the user's locally-stored library of music and Apple Music exist in the same environment, but users can separate the two if need be.
The new Music app includes five sections, which go into more detail down below: For You, New, Radio, Connect, and My Music.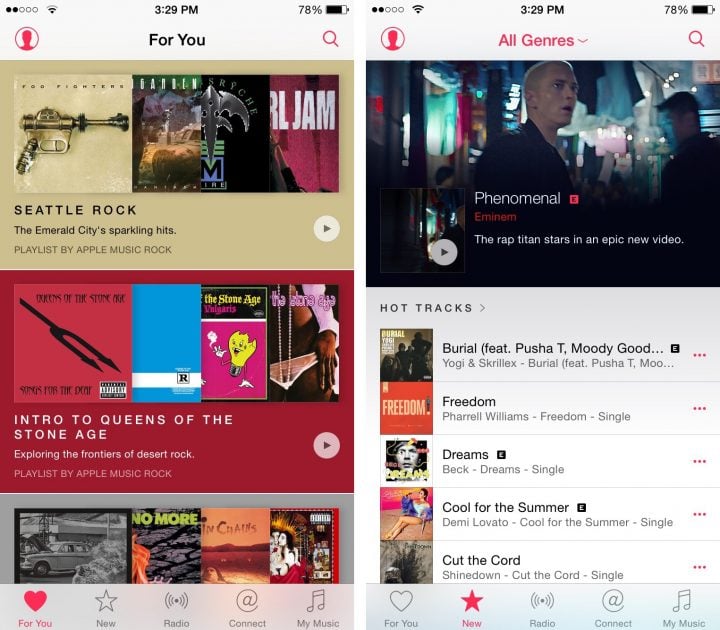 For You is where Apple Music shows you music that you might enjoy based on your own music tastes. New is the section where newer releases are highlighted, such as new singles and new albums. Radio is where you can find all sorts of different radio stations that play different genres of music. Connect is where you can keep up with artists and what they're working on. Finally, My Music is where all of your saved music and locally-stored music is kept, and you can browse it all in there.
Apple Music Features
The first thing that users do when they launch Apple Music is set up their recommendations and tell the app about their musical tastes. This is done by selecting genres of music that you enjoy, as well as your favorite artists.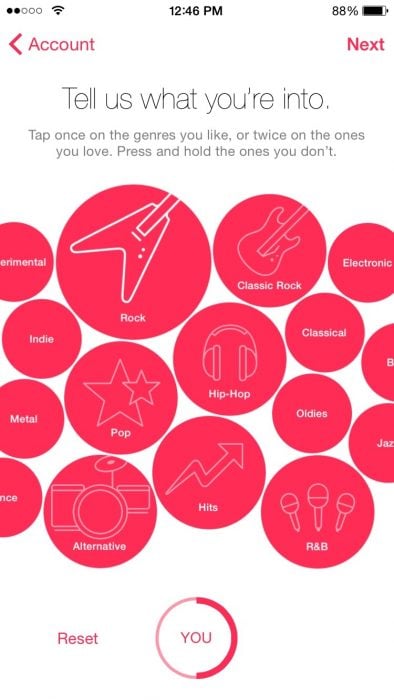 This provides Apple Music with information about your various musical tastes, that way it knows what kind of music you like, and over time, it will continue to learn what you like and what you don't like.
Perhaps one of the biggest features of Apple Music is the Beats 1 radio station, which provides hand-picked curated music and is controlled by real DJs 24/7. Besides music, Beats 1 also includes interviews with various artists and other cool stuff that music lovers would enjoy.
Read: 10 Important Apple Music Details
Apple Music is also the platform in which several exclusive albums are launching for the first time, with Dr. Dre's The Chronic being an Apple Music exclusive for the time-being, as well as Pharrell releasing his new single "Freedom" on Apple Music.
Apple Music's Connect feature is a unique section of Apple Music that allows users to follow their favorite artists as they post updates like photos, videos, or just short tidbits on what they're up to, whether they're touring or working on a new album.
Any artist that you add to your library will automatically mark you down as following them in Connect, but you can easily disable this feature, which is nice because it's something that not everyone will use.
Apple Music has a ton of different playlists that you can choose from, and there are playlists made by Apple Music editors themselves, as well as playlists put together by various media outlets like Rolling Stone, GQ, Pitchfork, etc. You'll quickly be able to find the perfect Apple Music playlist for your next gathering.
Read: Apple Music in iOS 8.4: Impressions
Perhaps one unknown feature of Apple Music is the ability to set any Apple Music song as your morning alarm, and you can do so in the Clock app just like you would with any other alarm. However, instead of selecting one of the boring default sounds, you can select an Apple Music song that's in your library.
Apple Music Pricing
So you're ready to give Apple Music a try and are wondering how much it costs. The good news is that you don't have to worry about that for the first three months of using Apple Music.
That's right, Apple Music comes with a 3-month free trial, allowing you to test drive the new service in its entirety for 90 whole days before you have to pony up any money.
However, after the free trial expires, Apple Music will cost $9.99 per month for individual users and $14.99 per month for a family plan that can provide up to six accounts, effectively dropping the price down to just $2.50 per user.
Apple Music's individual plan is on par with Spotify's Premium plan, but the family plan is the best deal around. Spotify's family plan is $14.99 as well, but it only supports up to two accounts.
Granted, some of Apple Music's features can still be used fully without paying the monthly fee. Users can still follow artists on Connect and listen to the Beats 1 radio station without paying a cent for Apple Music. You can also listen to other Apple Music radio stations with limited skipping power.

As an Amazon Associate I earn from qualifying purchases.