Apple: No Go for Nano Phone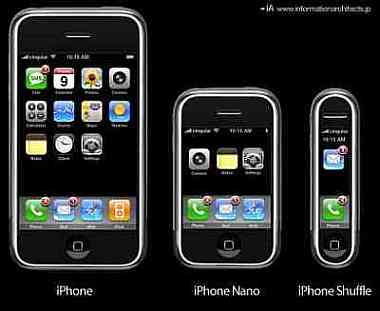 Despite rumors of a smaller, cheaper iPhone, lovingly dubbed the iPhone Nano, the New York Times is reporting that Apple is not pursuing plans to release a smaller iPhone model. Rather, the Cupertino, California Mac- and iPhone-maker may be more aggressive in its plans to drop prices on previous generation models–right now, the iPhone 3GS is sold for $49 on-contract alongside the iPhone 4, which begins at $200 on contract in the U.S. on AT&T and Verizon Wireless.
There are several main reasons why Apple doesn't want to release the smaller iPhone. First, it would create fragmentation in the iOS ecosystem, which would force developers to support another screen size and resolution for the low-cost model. Second, a device that size would be more difficult to operate and would not pass Apple's obsessive standards for a high user experience. More importantly, though, for a company that prides itself on product simplicity, having too many models may confuse consumers and erode the brand value of the flagship high-end iPhone.
Instead of the iPhone Nano, Apple may look to add value to its current products by adding more voice control features, especially for those who do not care to use a virtual keyboard. Google already offers more voice commands on its Android phone, and also adds a voice button on the keyboard for voice input and conversion to text.
Apple can pursue its strategy of offering last year's model as a cheap entry-level iPhone along the current generation model by using cheaper innards. When the iPhone 3GS was released, Apple offered the device in either 16 GB or 32 GB varieties, but alongside the iPhone 4 this year, Apple had configured the entry-level last year 3GS model with just 8 GB of storage to reduce costs and differentiate itself from the flagship iPhone 4 offering. Moving forward, Apple could also use a lower-quality camera, for example, to keep costs down.
The New York Times is also saying that Apple expects to differentiate itself with a revamped MobileMe service that will allow users to synchronize files without having to plug into a computer and add media sharing features, which could allow Apple to rely less on local flash storage memory and more on the cloud. Another plan that we've heard numerous times in the past is a digital locker service, which could serve to house all your iTunes purchase in the cloud so you can stream music and movies when you need it as long as you have an Internet connection. The buy once, play anywhere cloud-based storage solution would help to further reduce Apple's reliance on flash memory.

As an Amazon Associate I earn from qualifying purchases.