Apple Now Allowing Older App Downloads for Legacy iOS Versions
Apple is now allowing users with older iOS builds to download older versions of apps. Many apps are updated to only support the latest iOS version, which means users running older iOS builds weren't able to download the app at all. However, Apple is now allowing these users to download the "last compatible version" of an app in order to use it.
For example, a user running iOS 5 can now download an app that otherwise only supports iOS 6 and later, but instead of downloading the latest version, they'll get an older version that works with iOS 5. Of course, this isn't a huge problem for Apple, as fragmentation isn't as bad as Android, but it shows that Apple is willing to still support those running older iOS versions, especially those with older devices that can't upgrade to the latest iOS build.
Apple announced back in June during WWDC 2013 that they had sold 600 million iOS devices, and over 90% of which have the iOS 6 running on them, which is an impressive number. However, this new feature that was quietly added goes to show that fragmentation is still a problem for Apple, but it's willing to fix a few things to at least make it better.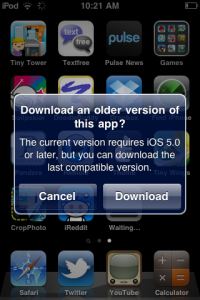 Still though, Apple hasn't been shy about how many users update to the latest version of iOS. The company revealed when they launched iOS 6 that 100 million iOS users updated to the latest version within the first week of its launch, and by the end of October that year, the number was doubled to 200 million.
However, older app versions have their downsides. They won't come with all of the newer features of an app and they'll still have all the bugs that have since been fixed with the newer version, but we suppose having access to the app at least is better than not having the app at all, especially when it's an app you use almost everyday.
The good news is that developers can expand the reach of their apps, so they'll be able to require the latest version of iOS, but they can still leave older versions available to users with older iOS devices, allowing more people to use their app than if older app versions weren't available.