Apple Now Selling Unlocked iPhone 4S in the U.S.
Apple has begun selling an unlocked, contract-free version of the iPhone 4S here in the U.S. but those of you who have been waiting for this day to arrive are going to have to wait just a little bit longer as the device still is facing shipping delays and currently sits at 1-2 weeks. Still, a small price to pay if you've been waiting since October for this version of the iPhone to arrive.
So, exactly how much are you going to have to shell out in order to get the latest iPhone unlocked and off-contract? Quite a bit, but if you've been in this game for awhile, you could have already guess that that was the case.
Apple is selling a 16GB iPhone 4S model for $649, a 32GB iPhone 4S for $749 and the 64GB model for $849. It's also offering up both the white and black flavors so if this is the route you're taking, you'll get your pick.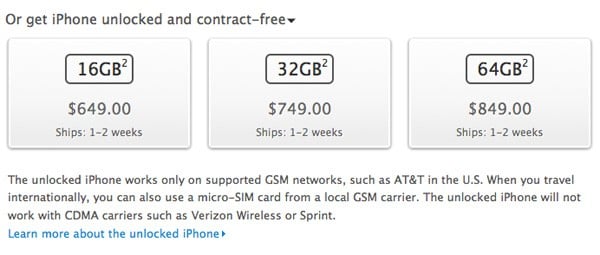 An unlocked iPhone 4S will allow you to use a micro-SIM from any GSM provider in the world but it won't allow you to get on carriers like Sprint and Verizon as they employ a CDMA network instead.
If you're interested, you can find the unlocked iPhone 4S right here.
Be sure to read our review of the iPhone 4S before you finalize your purchase.
Via: Engadget

As an Amazon Associate I earn from qualifying purchases.