Apple Patent Applications for The Dreaded Stylus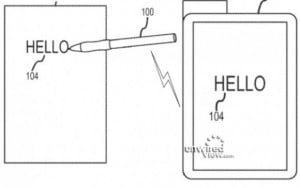 Remember if you need a stylus on an iPad or smartphone then you blew it. Well, that's according to Steve Jobs. But some recently surfaced patent applications make it look like Apple might be covering its bases for the future. Keep in mind that just because a company files a patent doesn't mean they will actually produce anything associated with the patent.
That said, I'm not surprised to see this surface. I've said all along that one day Apple will come up with some sort of Inking/stylus solution. That it was just a matter of time. The two patents in question here are intriguing. The first one covers a battery powered stylus for a capacitive screen that also has some sort of mechanism for heating up the tip to better interact with the screen. The second is for something called "Communicating Stylus" and it supposedly describes technology that allows the stylus to write on any surface and then beam that data back to an iPad or an iPhone.
According to Unwired View these are new patents but they have a filing date of January 2010. So, I'm not sure what that means.

As an Amazon Associate I earn from qualifying purchases.