Apple Patent Hints at Interchangeable Lens System for iPhone Photographers
Apple, which is revolutionizing the way that people take pictures with capable cameras on its smartphones, may be looking at ways to further the art of picture taking. A recently uncovered patent application suggests that Apple may be looking at ways to give users more control of their pictures through the use of a compact interchangeable lens system that's built into a rear case or rear battery cover of the company's iPhone.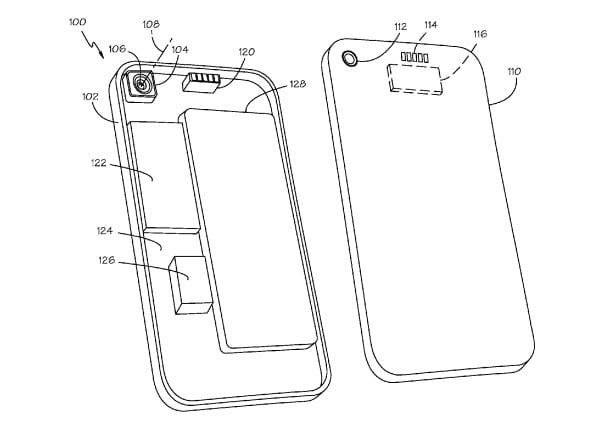 For example, users who need a macro lens on the iPhone 4S can swap out the rear glass panel on the smartphone and swap out the camera's lens with a glass panel that includes a built-in lens for close-up macro photography. In a similar manner, if users needed a telephoto zoom, a zoom magnification lens can be adapted into another rear battery cover. Consumers not interested in the 'lens system' can  just stick to the default battery cover and not have to invest in additional rear covers.
This is similar to swapping lenses on an interchangeable lens camera (ILC) or a DSLR system, but rather than have protruding lenses that take up space, these battery covers are flat and would be easier to port and tote.
Unwired View is reporting that Apple can also implement additional features into the photography system, such as image stabilization, mechanical shutter for sports photography, and also a more powerful flash that would come with its own power supply.
The image stabilization would tap into the phone's accelerometer and counter the movements that the accelerometer senses due to camera shake.
More phone manufacturers are focusing on lenses and cameras on smartphones now as smartphones are already replacing standalone point and shoot cameras for the average consumers. Nokia has long used Carl Zeiss lenses to stand out from the crowd and Sony is rumored to be bringing even more CyberShot technology to the next-generation Xperia Z flagship. HTC is working on its own camera system with its own ImageSense image processor, improved optical capabilities, and faster camera and a better user interface.

This article may contain affiliate links. Click here for more details.