Apple Patents Hidden Fingerprint Reader Ahead of iPhone 5S
We had previously reported that the 'S' in the name of the Apple iPhone 5S could stand for security as it had been used to represent 'S'peed in the 3GS and 'S'iri in the iPhone 4S. Now, a recently filed patent shows that Apple is working on integrating more biometrics security components into mobile devices–including the iPhone and iPod Touch, the iPad and iPad mini, and notebooks–to ensure a safe and secure environment, especially when it comes to e-commerce.
Security had always been a concern when NFC-based e-commerce apps had begun to surface, and Google was widely criticized in its early days with Google Wallet about security and authentication. Perhaps, Apple's patent application comes as a response to Google's early mistakes as it evaluates market opportunities before implementing NFC for mobile payments. Right now, however, Apple has its own Passbook app which can be turned into a mobile wallet.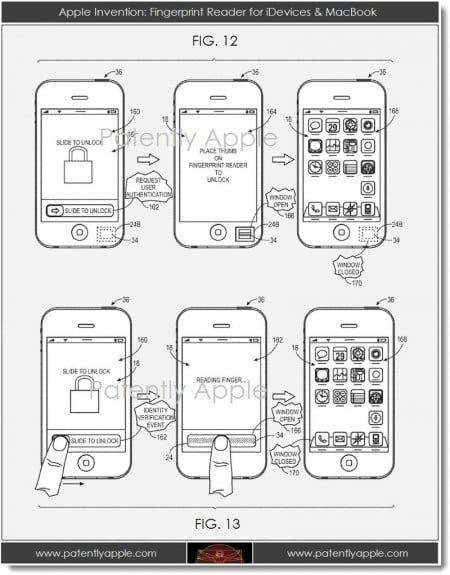 Essentially, the patent shows that the fingerprint reader is normally hidden behind an opaque, translucent display, or one that is skinned to match the color of the device. For instance, with a white iPhone, the fingerprint reader is hidden behind a screen that is white to match the iPhone's case. When users need to authenticate themselves–either to unlock the phone or to open a specific app that requires authentication–then the translucent window turns clear to reveal the biometric fingerprint scanner so users can scan their fingers and log in. The clear to translucent display could be made with a polymer dispersed liquid crystal (PDLC) screen.
The clear-to-translucent panels have been used before on a larger scale for privacy windows in homes or restrooms. For example, when a restroom is unoccupied, the glass will be clear and when a user goes in and locks the door to use the facility, the glass doors would turn translucent for privacy. Apple's implementation here is simply for aesthetic reasons to hide the biometric fingerprint scanner when that hardware is not needed for use.
Another security application that Patently Apple discovered is that Apple is working on face and eye recognition to authenticate mobile e-commerce transactions. For example, when shopping on Amazon.com on an iPhone, when it comes time to checking out, Amazon may require users to enter their password credentials a second time for security reasons. Instead, Apple's patent filing would allow Amazon.com to tap into the OS's security feature and validate the transaction by an eye scan or a face scan. This is not dissimilar to Google's Face Unlock feature to unlock an Android phone, but the Apple context is applied to payment and security authentication.
Apple had also acquired fingerprint reader AuthenTec for its biometrics efforts, which could indicate that the patent application may eventually appear in a future Apple product that gets commercialized.