Apple patents touchscreen convertible designs for Macs
Patently Apple has put together an analysis of a patent Apple filed in Europe that describes a system for Macs to convert between their standard configurations and touch-centric configurations. PA believes it will switch automatically between Mac OS X and iOS. I'm not so sure.
The patent was published a while ago in January by the World Intellectual Property Organization under the patent name "Transitioning between Modes of Input". True to its name, the patent does describe and demonstrate how an iMac and Macbook would switch between their usual configurations and more horizontal configurations better suited for touch input.
To switch to touch mode, the iMac screen would pivot upward and forward to bring it closer to the user. The Macbook description lists, as an example not as the design to be patented, a system identical to convertible notebooks/Tablet PCs. In both cases, the conversion is described as changing from a high-resolution user interface, like the current Mac OS X, to a zoomed-in, low-resolution one suitable for touch input.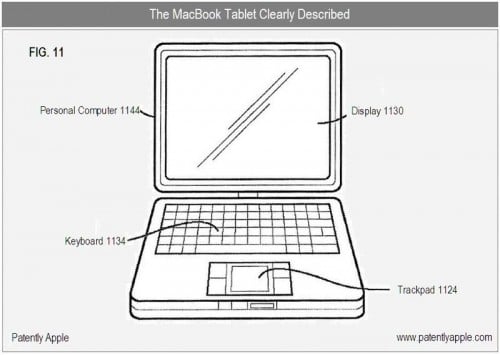 While the idea of a convertible notebook is hardly novel, the conversion described for the iMac appears to offer a wide range of screen angles, addressing an issue we regularly bring up when looking at touchscreen all-in-ones. If Apple gets these designs to market, it would be a big boost for touchscreen input and could get people to stop looking weirdly at our convertible notebooks and Tablet PCs (though we should be ready to cringe at the words "Oh, just like the new Macbook").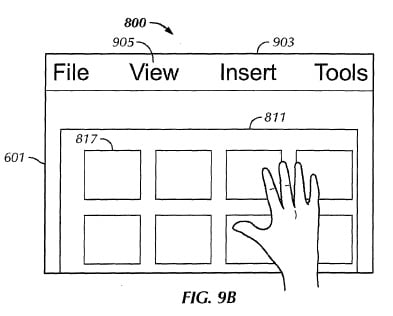 However, I cannot find any mention in the patent of the switching between operating systems that Patently Apple believes is in here. The description primarily points to a system that zooms in on the focus window and drops elements that are not suitable for a touch-centric UI when converted to touch mode. The ability to pull down the menu bar in touch mode (shown at right), an element that does not normally exist in iOS, is specifically mentioned. While it is possible that Apple could release a Mac that can run Mac OS X and iOS, that is not what is described in the patent.
Regardless, commenters in the past have brought up the notion of a dual-mode OS that can switch between a desktop-based UI and a tablet-based one, and the idea was met mostly with enthusiasm (I'm all for it). The patent also mentions external access to the system that can trigger the UI switch, which would make it easier to remote control your Mac via an iOS device or vice versa. What's in the patent appears to be worth pursuing, but I don't believe a dual-OS Mac is in there.

This article may contain affiliate links. Click here for more details.