Apple Pencil Review: The Best iPad Stylus
At an extra hundred dollars on top of the iPad Pro, the Apple Pencil is one of the most expensive iPad styluses you can buy. Is it really worth the cash? Find out all the details in our Apple Pencil review.
If there's one thing Apple is good at, it's hyperbole. Whether a new Apple product is magical, revolutionary, or the "funnest" thing ever, chances are good that Apple's marketing team has thrown a few superlatives in.

Over the years, Apple has expressed a certain amount of disdain over the idea of the stylus. A famous quote from Steve Jobs, Apple's co-founder and former CEO, suggested that if a company employed a stylus, then something has gone wrong in the design process. So what's with the big turnaround? Is Apple a hypocrite for coming out with a stylus of their own? It's a little more complicated than that.
Apple has a love/hate affair with the stylus
Back in the day, mobile devices – both smartphones of the time, and tablets, when they eventually came into being – required the use of styluses. Everything was still designed for use with a keyboard and mouse, and even when there was a touchscreen involved, it was easier to use a stylus, with its precision tapping, than to try and use fingers. These devices got the job done, by and large, but it was a frustrating experience.
When Mr. Jobs spoke about the idea of styluses, it was in response to products like these, products where a stylus is required just to make the thing usable. I'd go so far as to argue that he wouldn't have said the same thing about the Microsoft Surface, for example, because those products use a stylus as an optional extra to extend functionality, not to complete it. It's into this category of devices that both of the iPad Pros, as well as the Apple Pencil, fall.
Apple Pencil review: specifications
Like a couple of the third party options, the Apple Pencil is a powered stylus. It has a rechargeable battery away inside of its hollow tube, and it connects to your iPad over Bluetooth; it isn't just a simple device. It measures a little under seven inches in length, with a diameter of 0.35 inches and a weight of less than an ounce (just 0.73oz).
Unlike some of the other active stylus options, the Pencil is pretty simple to the end user. There's no buttons on the barrel; you can write or draw with the included tip, and that's it. Instead of turning into an eraser if you flip it over, the Pencil has a removable cap held on with a couple of magnets. Underneath is a Lightning plug, like the one you find on the end of your iPhone's charger cable.
Apple actually subtly changed how the Lightning port on the iPad Pros work. Instead of being a one-way connection like the iPhone and iPad had been up until now, an iPad Pro is actually how most people will charge their Apple Pencil. It looks awkward, and it is, to be honest, but it's mostly used in short spurts.
If your Pencil runs out of juice when you're on the go, you can shove it into your iPad Pro – Apple promises that just 15 seconds of iPad charging will get you an hour of Pencil use (ten minutes will take you from 0 to fully charged). Given the nature of the Pencil, it's impossible to determine a reasonable figure for battery life, but it's safe to say that you'll be able to sketch for a few hours or more without worry.
When you get back home, you can connect it to the iPad Pro for an extended period of time, or use a special cable that comes in your Pencil's box to connect it to a USB port. It sounds fussy, but it's really a great way to handle charging your Pencil. I've had one of these styluses since the middle of December, and my charging cable is still in the Pencil box; I've used the iPad Pro to charge it exclusively.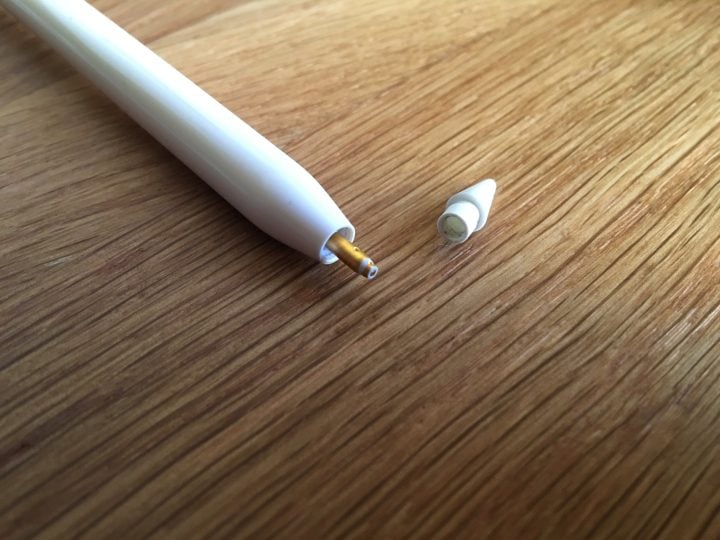 Along with the charging cable and the Pencil itself, your box contains an extra tip. Eventually, your Pencil's tip will wear down over time, and you'll be able to unscrew the old tip to replace it. Unfortunately, Apple has remained mum on how sensitive the Pencil is; it does compare favorably to Wacom's implementation, whoever.
Apple Pencil review: performance
The Pencil itself is extremely comfortable in hand. Despite being made of plastic, it doesn't feel cheap at all; it actually feels quite solid thanks to the fact that it's packed full of battery (it weighs about twice as much as a standard pencil, for instance). While it's completely round, Apple has engineered it so that if it rolls a little ways along your desk or table, it'll stop on its own – and the Apple logo will always be facing up.
To talk about how well the Pencil works requires first talking about other iPad styluses, none of which offer a great experience. Most of them have capacitive nubs that fake the touchscreen into thinking you're dragging your fingertip across the display. I've collected a handful of these over the years, and my current favorite (the Wacom Bamboo) only manages a slow, laggy experience.
A few enterprising companies have created powered Bluetooth models, theoretically similar to the Pencil. The best known of these include Adobe's Ink and Slide, 53's Pencil (they had the name first), and the Adonis Script or Touch. Within some apps, these styluses are actually pretty good. Unfortunately, none of them offer very widespread support, and outside of a handful of these apps, you're limited to using them more like one of those capacitive models (which are also still your only option if you want a stylus for the iPhone, iPad Mini, or iPad Air).
It sounds like I'm being hard on stylus manufacturers, but they've done an admirable job of working around the limitations of iOS – one of the reasons why the Pencil feels so much better is because of its tight integration with the iPad Pro, something that only Apple can do.
One result of that tight integration is that the Apple Pencil is supported pretty much across the entire iPad. The experience is better if an app has been updated with explicit Pencil support, but you'll still be able to do basic drawing and writing even if it hasn't.
Apple really worked to make the Pencil feel like, well, an actual pencil, and it shows. While there is lag, it's nearly imperceptible – especially if you aren't moving very fast across the screen. It's completely unlike using a non-powered stylus, where you could see the line following your stylus a second later; it's just like using a traditional sketchpad.
A key aspect to this experience is Apple's utterly phenomenal palm rejection technology. When you're using the Pencil on your iPad Pro, you can rest your hand directly on the screen, just like you might with a pad of paper – the iPad will completely ignore your hand, focusing instead on what the Pencil is doing. If you've ever spent time trying to use a stylus with an iPad Air, the iPad Pro's palm rejection is revelatory.
Another fun aspect to the Pencil is its tilt support. If you've ever drawn with a pencil, you've probably tilted it to the side to shade in an area – the Apple Pencil will behave in a similar fashion. If you select a pencil in your drawing app, it'll feel just like a pencil. Other drawing tools will tend to produce a small spot if you hold it perpendicular to the iPad, and a large spot if you tilt it to the side.
What the Pencil doesn't do well
All told, the Pencil delivers a really impressive experience, but there are definitely things that it could do better. Even now, writing or drawing with the Pencil on glass isn't as comfortable as using an analog tool and a piece of paper, and the tap-tap-tapping as you write is noticeable in a quiet room.
Unlike practically every other device with stylus support, there's nowhere to put the Pencil when you aren't using it. Even if it was just a loop attached to the iPad Pro smart covers, it would be handy to have a place to store the stylus that was always with the iPad. It's easy to see why they decided not to – after all, the Pencil is an optional accessory – but it's still annoying.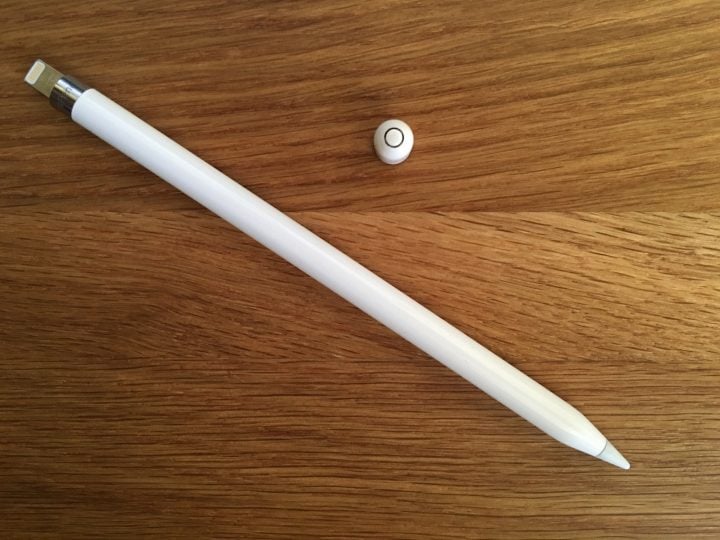 Additionally, I'm prone to losing things, and I expect it's just a matter of time before the cap on top of the Pencil is lost forever. It's held on with pretty strong magnets, but it's easy to imagine charging your stylus at the coffeeshop and accidentally knocking the cap across the floor. Already, third party solutions are appearing to solve both this and the storage issue; this is one of the more underrated benefits to buying into the Apple ecosystem.
Should you buy an Apple Pencil?
I think that many people are looking at the Apple Pencil as a tool for artists, sketchers, and others similarly inclined. But even non-artists who pick up one of the two iPad Pros should seriously consider picking up the Pencil to go with it – I'd go so far as to say it's a better buy than the Apple Smart Keyboard.
If you have to take a lot of notes that don't lend themselves to typing – anything with math or scientific formulae, for example – the Pencil is outstanding. You can take your notes, immediately upload and share them with fellow students or coworkers. The stylus is also great for annotating and signing PDFs.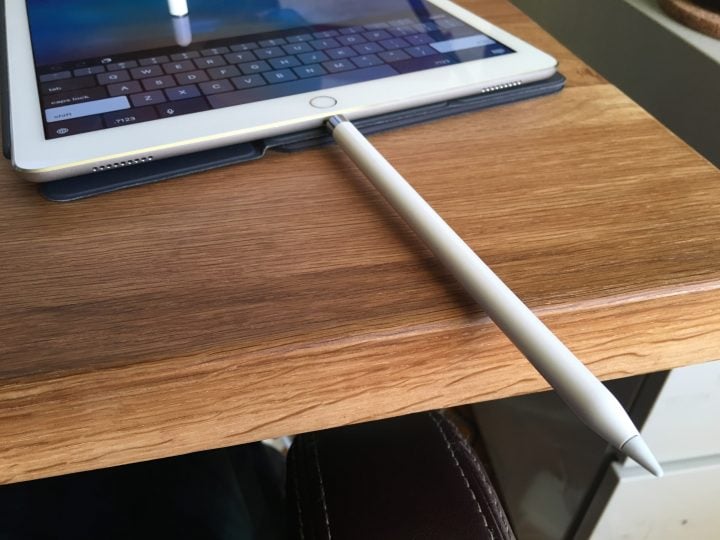 Still, it's an extra hundred dollars, depending on where you are, and that's money that could go toward an iPad case, keyboard, or another accessory. If you don't think that you'll ever want to doodle, take notes, or mark up a document, you can safely skip the Pencil. But if you find yourself looking at the Pencil, then looking at the cheaper, third-party alternatives, do yourself a favor and stick with Apple's stylus.

As an Amazon Associate I earn from qualifying purchases.