Apple Planning Biggest Mobile Launch Around iPhone 5
If all the latest Apple rumors and analyst rumblings are true, Apple is preparing for a busy holiday season.
A fall iPhone 5 release date is expected, but rumors suggest that Apple is also preparing an 8-inch iPad Mini for this fall. But that's not all.
We've also heard about a slight refresh to the New iPad 3rd generation tablet, a new iPod nano with a home button and larger touchscreen as well as a Retina Display MacBook Pro 13 inch on the way for Apple's fall announcements. There's even rumors of an Apple TV update this fall.
Why Would Apple Update Every iOS Product?
Apple typically launches new products at dedicated events, with recent events focusing on single product lines with a standout product, but thanks to increased competition in the sub-$300 tablet market and a lack of updates to much of the iPod line Apple could announce update to the entire mobile line in one blockbuster fall event.
Time for Updates
Apple routinely updates product lines to add new features and tempt shoppers to upgrade. Much of the time this is an annual upgrade cycle, which can deliver incremental to major upgrades. Some of the current Apple mobile and iOS products are overdue for upgrades and others are simply coming up on the date for an upgrade.
After changing the iPhone launch to October last year a fall iPhone 5 release date is practically a given. While iPhone owners will wait, they may not be patient enough to wait until 2013 for a new iPhone.
The iPod Touch is typically updated with the iPhone, borrowing some older features. The current iPod Touch was announced last October and is due for some update this fall.
The iPod Nano is a popular fitness and fashion accessory, but it hasn't seen a significant update since late 2010. While Apple added a few features last fall, we could see a redesign in a few months.
Smaller Dock Connector
If Apple is really rolling out a smaller iPhone and iPad dock connector it makes sense to update the entire iOS product line in one swoop. New iPhone 5 and iPad Mini shoppers will have to throw out all their accessories, and it looks like Apple might throw out the designs with an older dock connector on all of its current generation products.
This supports claims that Apple will slightly refresh the iPad 3rd generation just 6 months after launch.
The iPad Mini engineering sample shows a spot for a smaller 19-pin dock connector, one which we have seen numerous times in leaks for the iPhone 5.
Check out why Apple is switching to a smaller dock connector for more on this major change.
Apps for All
Apps are a huge part fo the iPhone, iPad and iPod Touch experience and one of the biggest reasons many users purchases these mobile devices.
While the iPod Nano and Apple TV use a version of the same iOS software found on the iPhone, they do not let users install apps. According to Gene Munster, an analyst with Piper Jaffray, Apple will launch a new Apple TV this fall. Given the Apple TV update earlier this year, we can only hope this new model adds the ability to install apps for entertainment and gaming.
The iPod Nano is rumored to receive a larger display and home button this fall. The leak did not indicate that Apple would be bringing apps to the iPod Nano, but the addition of a home button and more screen real estate gives fuel to the fire that Apple will bring apps to all of their mobile and iOS products.
iPad Mini, iPod Nano & iPhone 5 Release Date Rumors
Current iPhone 5 release date rumors point to September or October launch. Apple typically introduces a new iPhone every year, and October looks good for the next generation iPhone.
Analysts expect that the iPad Mini will release this fall as well. Munster believes the iPad mini will launch at a "crowded" September or October event. Munster also believes Apple will announce a new Apple TV and possibly a 13-inch MacBook Pro with Retina Display at this fall event.
If the iPod Nano does see a redesign, it makes sense that Apple would keep the announcement paired with the iPhone event. By announcing the products at the same event, and releasing them in the weeks after, Apple offers buyers items at almost any price level, instead of limited prices and choice.
iPhone 5 Rumors
The iPhone 5 engineering sample we posted yesterday shows what the iPhone 5 might look like, showing a taller, slightly thinner iPhone with no noticeable change in width.
Read: iPhone 5 Engineering Sample Photos
This milled metal sample shows a rear facing microphone between the camera and flash, as well as the lines which match with the previous leaked iPhone 5 renderings and parts. TechnoBuffalo created concepts of the iPhone 5 from these leaks, which are shown in the video below.
Additional iPhone 5 Rumors point to the following specs and features.
Taller 4-inch display with 176 additional pixels.
Thinner form factor thanks to thinner display and internal components.
Quad Core processor.
4G LTE connectivity for faster uploads and downloads.
Better front facing camera for HD video chat.
Read: iPhone 5 Release Date, News and Rumors
iPad Mini Rumors
Apple has not mentioned the iPad Mini, but with leaked sample molds and sources such as The Wall Street Journal and Bloomberg chiming in with support the iPad Mini looks like a greater possibility.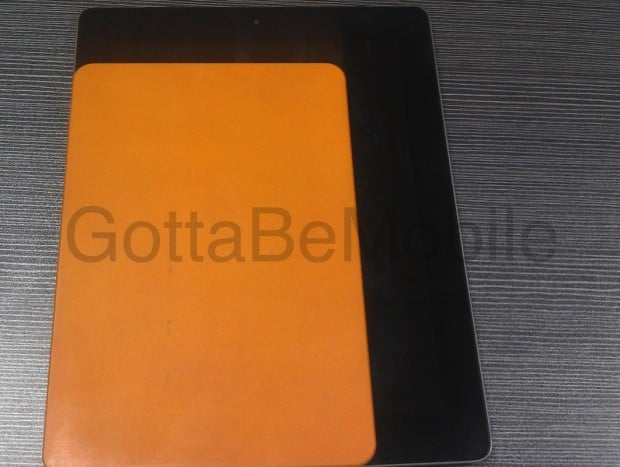 Based on our sources, the iPad Mini looks to be about two-thirds of the size of the current iPad. The iPad Mini sample shows that Apple may introduce the thinnest iPad yet.
Read: New iPad Mini Engineering Sample Photos
The most recent iPad Mini rumors suggest that the iPad Mini will include,
Nearly 8-inch display with 1024 x 768 resolution.
$299 entry level price.
16GB entry level storage
October release date.
Rumors of 4G LTE connectivity on the iPad Mini have not surfaced, but a fast mobile connection seems like a natural fit for a smaller, portable iPad.
iPod Nano Rumors
The iPod Nano may finally grow from the small, watch friendly size to one more suitable for apps.
The iPod Nano rumor also suggests that Apple will focus on a new iTunes service, possibly replacing Ping. If the new service is set up for sharing, expect the iPod Nano to come with Wifi.
Apple TV Rumors
One of the biggest running rumors for the Apple TV is the inclusion of Apps. Apple updated the Aple TV to support 1080P resolution ealier this year, but users still cannot run third-party apps.
Read: 10 Apple TV Apps I Want
While the iPhone or iPad can Airplay apps to the TV, many of us would rather see apps running natively on the Apple TV with our iPads and iPhones as connected controllers.
Stay tuned for more breaking iPhone 5, iPad Mini and iPod news and rumors.

As an Amazon Associate I earn from qualifying purchases.