Apple Plays the Privacy Card to Swipe At Google at WWDC
Since the dawn of the iPhone (and even before) Apple has always taken security and privacy seriously. So much so that it has repeatedly stated that protecting your data on its devices is one of the main reasons it sandboxes Apps from each other. Whether that bad behavior is just from a misbehaving App or malicious code Apple as relied on this rationale even in the face of complaints that it is overprotective and too closed. Apple's Touch ID feature and Lost Mode have been hailed by law enforcement as ways for users to protect their data and their iPhones from being stolen. Now it seems Apple is ratcheting up the hype about its security and privacy conscious features as a way to take swipes at its competition, primarily Google.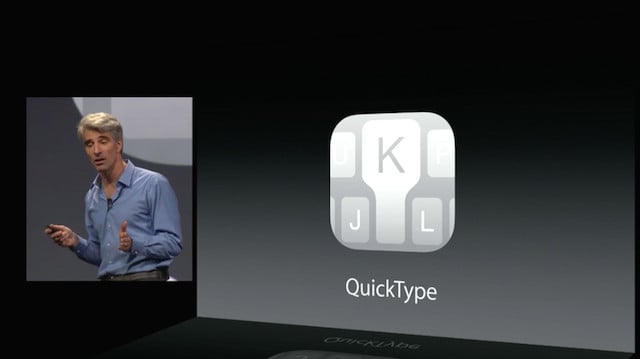 On stage during the 2014 World Wide Developers Conference there were subtle and not so subtle swipes at Google as Apple is turning privacy and security features more and more into a selling point. This comes as some users are becoming more cautious about their own privacy and data security in the wake of the Edward Snowden leaks about government spying, how technology companies take advantage of user data they acquire as a part of the bargain in exchange for free Apps and services, and more data breaches than we can shake an auto-correct feature at.
In the category of "not so subtle," Tim Cook introduced the iOS 8 portion of the WWDC keynote by putting up a couple of slides that bashed Google and Android a bit. In the first series of slides Cook pointed up that Android's infamous fragmentation, that leads to large numbers of customers not having current operation system updates, also leads to Android being a large malware target.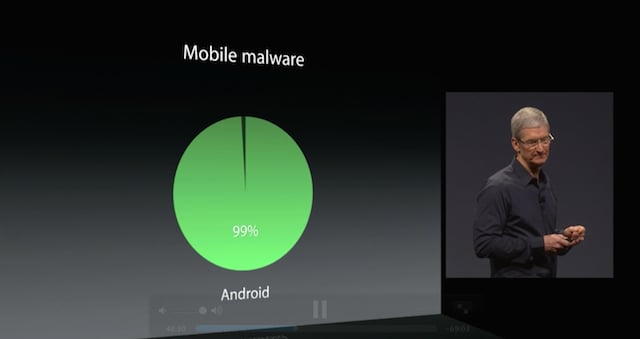 As if that wasn't enough of a smack, he posted a slide with a quote from ZDNet's Adrian Kingsley-Huges saying that "Android fragmentation is turning devices into a toxic hellstew of vulnerabilities."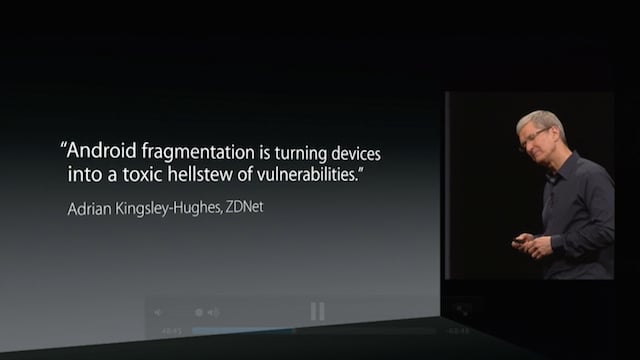 Like I said. Not so subtle.
But then there was there were also the more subtle swipes mentioned in the keynote and some that were even glossed over.
In talking about the addition of predictive text capability that Apple is calling QuickType, and most acknowledge is a rip off of Android and other keyboards, Craig Federighi points up a key difference that might matter to the security and privacy conscious. All of the predictive work is being done on the device, without sending what you are typing out to a server. Those who got freaked out by the Snowden revelations that NSA spooks can watch what you type as you type it, might have some interest in that differentiation.
Keep in mind that one of the arguments for sending text and audio to servers has always been to help machines learn how users type or dictate to better facilitate prediction and accuracy. Does this mean that Apple's device based predictive engine will be less effective than Google's or that of third party keyboards?
In opening up Apple's Touch ID to other Apps and services, Federighi was also quick to premeptively point out that a user's finger print data will not be shared with Apps or or the rest of the system, but will always reside within the secure vault on the A7 chip.
Apple is also going to make it a bit easier to distinguish when a user wants to surf privately or incognito by bringing that activity into a new window. Apple calls this Private Mode and builds on its reputation of having the first browser with a privacy mode.
And, though not prominently mentioned during the Keynote, we're discovering that Apple will make security conscious search engine DuckDuckGo a built-in option for searching in Safari, both in OS X Yosemite and iOS 8. DuckDuckGo works by using a combination of its own Web Crawler with mix of data from other search engines without using Google. IP addresses user agents are not logged, and cookies are not used by default. HTTPS Everywhere is the default encryption method.
Apple's large punches and subtle reminders of key differences from its competitors when it comes to privacy and security obviously will score with the market segment that takes those concerns seriously. How large of a selling point those features become remains to be seen. But, it is more than intriguing to see Apple beginning to open up iOS with other features that attract users to competing platforms, and at the same time focus on a continuing commitment to security and user privacy.