Apple Prepping Face Unlock for the iPhone, But Do You Want it?
If you are jealous of the face unlocking fun being had by Galaxy Nexus owners, and want to use your face to unlock your iPhone, you might just be in luck.
A new Apple patent shows that the company is working on using the iPhone's camera to unlock your device without the need for a PIN. Apple's patent takes it a step further, adding presence detection, which would be abe to identify you approaching the device and turn on face detection.
Based on the breakdown of Apple's patent filing on Patently Apple, we get a look at how Apple plans to make their face unlock for the iPhone stand out from the crowd.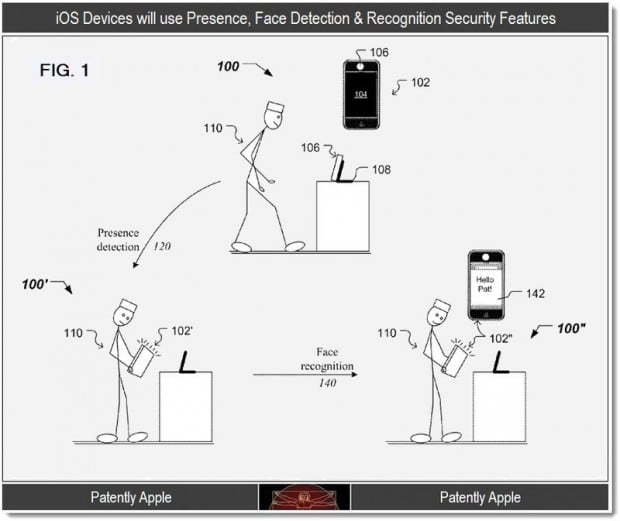 The use of presence detection is one way Apple hopes to improve face unlock on your phone and iPad. As shown in the image above, your iOS device could detect your presence when placed in a dock. If you were detected, the device would turn the display on and look for your face to begin the unlock. This would be nicer than the Galaxy Nexus, which requires you to press a power button to begin the unlock process.
Apple's face unlock plan might scale better than current systems, with one level of security at home, and higher security in work environments. Increased security is incredibly important because face unlock systems found in consumer devices like the Galaxy Nexus haven't been able to stand up to real world environments.
Google warns users that the Face Unlock feature of the Galaxy Nexus and Android 4.0 is less secure than a PIN or passcode combination when you set it up. This waning proved to be needed as we have seen the face unlock feature tricked by a photograph and even by friends who don't look like us. It's possible that a good Facebook Profile photo could fool face unlock on the Galaxy Nexus.
You can read all the technical information about the Apple patent for face unlock, where more details are shared, or head to Patently Apple to get an easier to understand explanation of the patent.
The patent was filed back in 2009, so it is possible that we might see it integrated into the iPhone 4S in a future iOS upgrade during 2012, perhaps when we see a new iPad.

As an Amazon Associate I earn from qualifying purchases.