Apple Ready to Shrink Dock Connector on Next iDevice
According to iMore, Apple is ready to abandon the classic dock connector that debuted since the iPod on next-generation iOS devices. The new dock connector would be smaller and would therefore not be backward-compatible with the old dock connectors in use today, creating new opportunities for accessories-manufacturers as well as Apple to create products and accessories surrounding the new dock connector design. Unfortunately, though, it looks like the new dock connector doesn't go as far as integrating the MagSafe concept.
Some accessories that would need to be replaced along with new iPhones, iPods, and iPads with the new connector may include audio docks, charge and sync cables and cradles, and other hardware that plug directly into the dock connector port.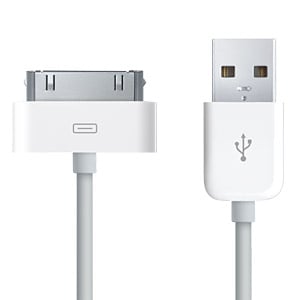 Though the side-effect would be obsolescence of older accessories, Apple's interest is not to force customers to upgrade accessories. Rather, the iOS-maker wants to conserve as much space as possible to accommodate for a slim device while retaining a large battery. As Apple joins its Android rival with the inclusion of 4G LTE support, the hardware manufacturer will not only be packing in more radios into the iPhone's design, but also will need to accommodate a larger battery due to the heavy power consumption of LTE.
Still, Apple is relying less on the dock connector as it moves to wireless technology and the cloud to keep things synchronized. With iOS 5, Apple is trying to create a near-PC-free iOS ecosystem that relies more heavily on iCloud. Even synchronization with iTunes could be handled via WiFi, rather than the dock connector to USB cable.
Miniaturization of components is nothing new for Apple. The company recently switched from a traditional size SIM card to a micro SIM card to save space on the iPad and iPhone. The company had been known to be forward-thinking in terms of abandoning legacy technologies at the appropriate time in favor of supporting new technologies, such as switching to USB, letting go of the floppy drive, and now heralding Thunderbolt on its Mac lineup.
The new smaller dock connector may debut first on the next-generation iPhone 5 as we haven't heard anything about the smaller connector for the iPad 3. This would make sense as space is a more precious commodity on the iPhone's smaller volume than the iPad's larger size. Even then, the iPad 3 is said to be marginally thicker than the iPad 2 to accommodate all the technologies Apple intends to pack into the next-generation tablet, such as a high resolution Retina Display, 4G LTE support, and a large enough battery life to deliver 10-hour computing in spite of power-hungry features.
The iPhone 5 is expected to debut in the Fall.
If the change does happen, people most likely to be upset by the move are those who have purchased expensive audio systems that integrate with the iPad and iPhone via the dock connector. Some of those Hi Fi systems can cost upwards of $1,000 and many decent quality ones start out in the hundreds of dollars.

As an Amazon Associate I earn from qualifying purchases.